Or NNES is the new game console created by Jet inc. It's the new version of the very first Nintendo console. It is going to be released June 2015. It has a speaking chip that is English and can be translated into, Spanish, Chinese, Japanese, Italian, French and even Greek. It can give you trivia about the game and hints if you're stuck on a part. It can play NES and SNES that have been converted into a special disk that was made for the console. It can even play GameCube or Wii game on the original disk. It comes with four controllers. When you turn on your controller a blue light will appear on one of the four semi-circles. The rest of the semi-circles will have a light if more than one controller is on. It does not play Nintendo 64 games although it looks Like the Nintendo 64. The controller has the letter buttons from the Wii controller plus It has the new number buttons. To open the game slot use the controller and press the 0 button.
Games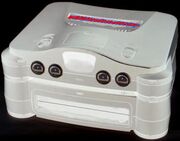 Ad blocker interference detected!
Wikia is a free-to-use site that makes money from advertising. We have a modified experience for viewers using ad blockers

Wikia is not accessible if you've made further modifications. Remove the custom ad blocker rule(s) and the page will load as expected.