Ness exists, and it can be found in real encyclopedias. You may read more about it here: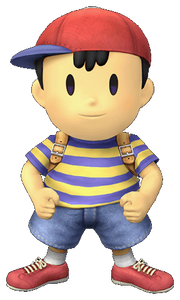 Ness
is the 10 year-old protagonist of
Earthbound/Mother 2
from the
EarthBound/Mother series
. Ness has the gift of
PSI
, powerful psychic powers, which he's acquired since he was at a very young age. Ness also currently lives in
Onett
, his hometown, and he began his perilous, life-changing journey there long ago when a meteor struck the hills near his hometown and he went to investigate, as well as find his irritating neighbor
Porky
's little brother
Picky
. Out of the meteor came
Buzz Buzz
, who told Ness of the impending attack of the malevolent alien
Giygas
, and Ness then set out to stop the invasion and save his world, not without the help of fellow party members
Paula
,
Poo
, and
Jeff Andonuts
. He plays for
Nintendo All-Stars FC
in the
Nintendo Soccer League
and has become a regular in the
Super Smash Bros. series
since his appearance in the original.