Neo Home is the operating system of the Neo console by N Studios. It focuses on three core areas and has a clean, colorful interface that is appealing to the user. All Neo users are required to have Home accounts.
Current Version

Home Screen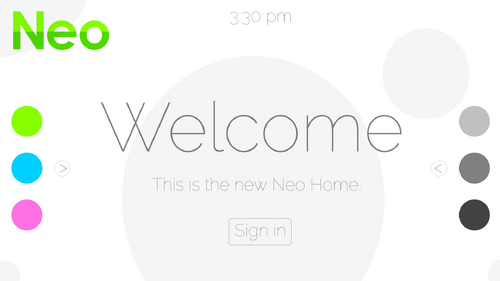 The Home Screen is the first screen the user will see when they turn on the Neo console. To take advantage of the touchscreen capabilities of the system, the 2 core menus are accessed by swiping from the left or the right edges.
| | |
| --- | --- |
| Content Menu | Settings Menu |
Play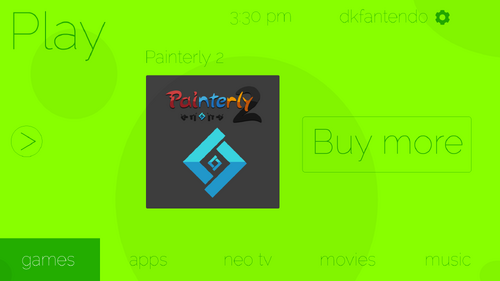 Play is the area users intending to play all their media (such as Neo games) will go to. Since all games are sold digitally, all games are tied to the user's Home account, meaning regardless of what system is used, the games will always be there.
Shop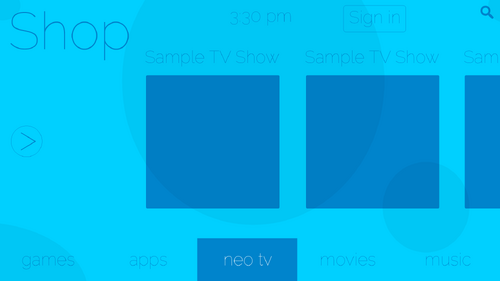 Shop is the area users intending to buy new media will go to. All monetary balances and purchases are tied to the user's Home account.
The categories of content that can be purchased in the Shop are the same as those that can be accessed in Play (Games, Apps, Neo TV, Movies, and Music).
Talk
Talk is the area users intending to socialize in the Neo user community will go to. Every user has their own profile, can easily add friends and create groups, access trending content, and use the multiplayer service, Cnekt.

Cnekt is the universal multiplayer service for Neo games. All games made for the Neo with multiplayer functionality achieve it through Cnekt. Any game's multiplayer mode can be directly opened and matches can be easily arranged in the Cnekt section of Talk.
Trivia
Neo Home is the replacement for Shift Online.
Neo Home 2 is based on thin typefaces, unlike the first version which was based on more bold fonts. This is similar to the design changes from Apple's iOS 6 to iOS 7.
Ad blocker interference detected!
Wikia is a free-to-use site that makes money from advertising. We have a modified experience for viewers using ad blockers

Wikia is not accessible if you've made further modifications. Remove the custom ad blocker rule(s) and the page will load as expected.