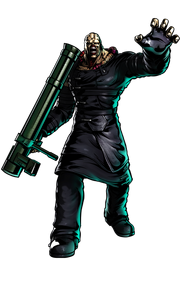 The 
Nemesis
is a common enemy in the 
Resident Evil
series. He appears as a playable character in
Xbox All-Stars Battle Royale
. His in-game rival is
Spawn
.
Biography
STAAAAARS...
TBA...
THE LEGACY OF NEMESIS
Resident Evil 3: Nemesis
Resident Evil Survivor 2
Resident Evil: The Umbrella Chronicles
Ultimate MARVEL vs. Capcom 3
Resident Evil: Operation Raccoon City
Arcade
Opening
TBA...
Rivalry
Name: Spawn
Reason: Unknown
Connection: Unknown
Ending
TBA...
Gameplay
The Nemesis is a very slow character. He relies mostly on strong, physical attacks.
Moves
A Moves:
X Moves:
B Moves:
Supers
Level 1 Super
Level 2 Super
Level 3 Super
Quotes and Taunts
Taunts
Grrr...: The Nemesis looks up and roars.
Quotes
Aside from occasionally growling and "STARS", Nemesis doesn't say anything.
Animations
Entrance
Break Out!: The Nemesis is locked in a capsule, but it then breaks out and readies to fight.
Win
STARS!: The Nemesis roars as tentacles come out of it's body.
Lose
If using STARS!: The Nemesis staggers backward as if injured.
Results Screen
Costumes
Big and Bad
Nemesis' basic appearance, as seen above.
Grey skin, black suit, red flesh