Ad blocker interference detected!
Wikia is a free-to-use site that makes money from advertising. We have a modified experience for viewers using ad blockers

Wikia is not accessible if you've made further modifications. Remove the custom ad blocker rule(s) and the page will load as expected.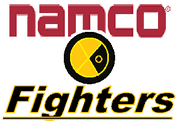 Namco Fighters
 is a fighting game released only in Japan for PlayStation 2, Nintendo Gamecube, and Xbox. The game plays similar to the Super Smash Bros., but it features characters from Namco. A
remake
would be released several years later.
Characters
Pac-Man (Pac-Man)
Ms. Pac-Man (Pac-Man)
Blinky (Pac-Man)
Taizo Hori/Dig Dug (Dig Dug)
Sususmu Hori/Mr. Driller (Mr. Driller)
Mappy (Mappy)
Pino (ToyPop)
Clovis (Dragon Buster)
Toby "Kissy" Masuyo (Baraduke)
Valkyrie (The Legend of Valkyrie)
Jin Kazama (Tekken)
Kazuya Mishima (Tekken)
Nightmare (Soul Calibur)
Klonoa (Klonoa)
Gilgamesh/Gil (The Tower of Druaga)
Ki (The Tower of Druaga)
Wonder Momo (Wonder Momo)
Bravoman (Bravoman)