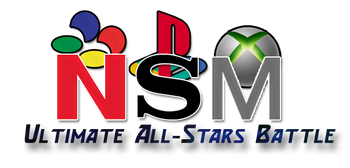 NSM: Ultimate All-Stars Battle (NSM meaning Nintendo, Sony and Microsoft) is a 3D fightning crossover game featuring characters from Nintendo, Sony and Microsoft fighting against each other. The game is being developed by Vector Gaming, Inc.
Story
Gameplay
Characters
Starter Characters
Character
Description
Moveset

Mario
Super Mario Bros.

Link
The Legend of Zelda


Samus
Metroid

Pikachu
Pokémon

Donkey Kong
Donkey Kong

Peach
Super Mario Bros.

Bowser
Super Mario Bros.

Crash Bandicoot
Crash Bandicoot

Sir Daniel Forteqsue
MediEvil

Lara Croft
Tomb Raider

Nathan Drake
Uncharted

Knack
Knack

Princess Plump
Fat Princess


Cole McGrath
inFamous

Master Chief
Halo

Hero of Bowerstone
Fable

Kelly
Gunvalkyrie

Michael Wilson
Metal Wolf Chaos

Marcus Fenix
Gears of War

Cortana
Halo

Mr. Splosion Man
Splosion Man
Ad blocker interference detected!
Wikia is a free-to-use site that makes money from advertising. We have a modified experience for viewers using ad blockers

Wikia is not accessible if you've made further modifications. Remove the custom ad blocker rule(s) and the page will load as expected.