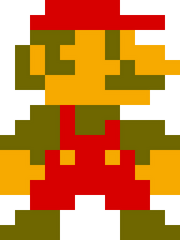 NES Mario (also known as Retro Mario, 8-Bit Mario or Pixel Mario) is an 8-Bit NES version of Mario. He mades his appearance in Super Mario Bros, a ground-breaking platform game that has inspired creators and artists worldwide. If you whistle one of Super Mario Bros. unforgettable tunes in public transports or in a waiting room, there is little doubt that at least one person around you will be filled with nostalgia and good memories. Also he appears in Super Crash Bros. Racing alongside NES Luigi. He appears as a playable character in Super Smash Bros. Global Apocalypse, as the second to last unlockable character.He appears as DLC character in Super Smash Bros. Charged!/DLC alongside NES Luigi
Appearances
Retro Mario
makes an appearance in
Mario Kart Dimensions
, as an unlockable character. Retro Mario is one of the most challenging people to unlock, as one must win Special Cup and Lightning Cup on Mirror Mode, or play 15000 races. He is classified as a "Small" driver.
NES Mario appears in Mario Kart Ultra, along with NES Luigi, as an unlockable character. He is a Light weight driver. He has an alternate costume, where you can race in his "Super" form.
NES Mario joins Modern Mario and the 2nd Dimension Luigi and Tails (along with NES Luigi) on their mission to defeat Mandy and foil her plan for universal domination.
NES Mario is confirmed to appear in Sable and Mabel: Dream Team but he will make a small cameo in a holographic billboard and he uses his sprite from Super Mario Bros. 2.
NES Mario is the star of all the classic Mario games and the fanon games that star him in it. NES Mario is referred to as Classic Mario. There is also an Amiibo based off of him. The Amiibo will unlock secret levels and power ups/enemies from future Mario games for the original Super Mario Bros. for the NES.
Main article: NES Mario (SSB8)
NES Mario, identified as Retro Mario, is an unlockable character in Super Smash Bros. Endgame.
Gallery
Ad blocker interference detected!
Wikia is a free-to-use site that makes money from advertising. We have a modified experience for viewers using ad blockers

Wikia is not accessible if you've made further modifications. Remove the custom ad blocker rule(s) and the page will load as expected.