Ad blocker interference detected!
Wikia is a free-to-use site that makes money from advertising. We have a modified experience for viewers using ad blockers

Wikia is not accessible if you've made further modifications. Remove the custom ad blocker rule(s) and the page will load as expected.
Mushroom Plains is the first world of New Super Mario Bros. PIX. It is a Simple Grassland World. This wordd has 10 levels. 7 normal levels, 1 secret level, a tower, and a castle. The tower boss is renzor & the castle boss is larry.
Levels
World 1-1, Chicken Valley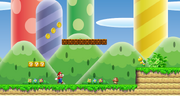 World 1-2, Shifty Cavern
World 1-A, Cheep Cheep Bridge
World 1-3, Yoshi Way
World 1-, Renzor's Fenced Tower
World 1-4, Cloudy Cliffs
World 1-5, Koopa Troopa Mushroom
World 1-6, Blooper Lake
​World 1-7, Piranha Plant Gardens
​World 1-, Larry's Throwback Castle