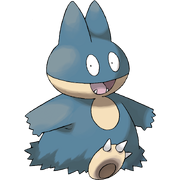 Munchlax is a normal-type Pokémon species and the pre-evolution of Snorlax. It's first appearance was in Pokemon: Destiny Deoxys. However, its first game appearance was in the 3rd generation DS game, Pokemon Dash. It can only be found in the Sinnoh Region, usually from Honey Trees, although it can be found in Kalos through breeding Snorlax and in Yuniku as well.
Ad blocker interference detected!
Wikia is a free-to-use site that makes money from advertising. We have a modified experience for viewers using ad blockers

Wikia is not accessible if you've made further modifications. Remove the custom ad blocker rule(s) and the page will load as expected.