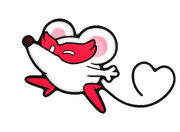 Ms. Mowz
is one of Mario's partners in the Paper Mario series. She is obviously in love with him, as she kisses him several times and calls him "her little cheese hunk".
Abilities
Ms. Mowz can sniff out hidden objects.
Appearance
She looks like a normal, white Mouser. Typically, she wears a black mask when running her shop, however, she changes into red sunglasses when robbing. Her tail makes a heart and she wears high heels.