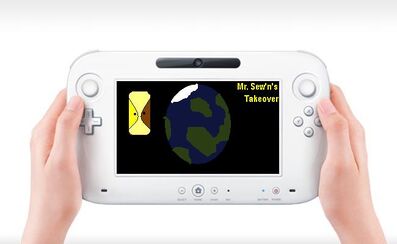 Mr. Sew'n's Takeover is a minigame in the Hood'ems series. It is getting a sequel called Mr. Sew'n's Takeover 2: Jailbreak.
Plot
Mr. Sewn is back! This time he is trying to take over the world!
Characters
Level Unlockable
| | | |
| --- | --- | --- |
| Image | Name | Level that unlocks them |
| | French Guy | Level 1 |
| | Spanish Guy | Level 2 |
| | The reason I overdid this British one's stereotype, is because I am British so I know it's not true. | Level 3 |
| | Austalian Guy | Level 4 |
Buy characters
| | | | |
| --- | --- | --- | --- |
| Image | Name | How to be able to buy them | Cost |
| | Mr. Sew'n | Complete Level 4 on Free Play | 300 coins |
| | Mario | Watch the trailer for Nintend'ems | 20 coins |
| | Bear | Can buy at any time | 10 coins |
| | Yellow | Complete any level on free play | 25 coins |
Modes
Normal
Play the levels.
Free Play
Play the levels as any character you have unlocked.
Levels
Level One
In France, Mr. Sew'n is taking over. Take control of a French person, and search for the five peices of Mr. Sew'n's ship's self-destruct button.
Level Two
Tenerife, Mr. Sew'n is taking over. Mr. Sew'n has placed a bomb in the black sand at the beach. Control a Spanish person, and swim to Tenerife, and then dig up the bomb within 10 minutes.
Level Three
London, England. Mr. Sew'n has taken control of some people and have made them start rioting. Fight them. Defeat all 100 before being killed yourself.
Level Four
In Australia, 7 hours ahead of where you last were, Mr. Sew'n has gotten rid of all the water, making the Crocodiles have to find other places. Take control of a Crocodile Hunter and find a way of trapping them!
Aftermath
Mr. Sew'n decides that he cannot win in World domination, and gives up, for now.
Town
When you start the game up (every time except the first time) you play as the French guy. You are in Paris, and there are places you can go. On the Eiffel Tower, a sign says the time you have spent playing. There is a shop where you can go and buy characters.