"This must be the best RPG ever made."


—Nintendo Power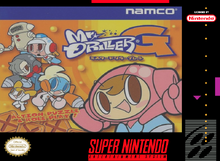 Mr. Driller Great (ミスタードリラーグレート Misutā Dorirā Gurēto) is a role-playing game developed and published by Namco (now Bandai Namco) in 1992 (1991 in Japan) as a part of the Mr. Driller RPG series. It was also the first 32-bit Super Nintendo game and to ever have the world from the popular game Minecraft as a landscape. It was also the first game in the series to ever use the Active Time Battle system since Final Fantasy IV. An enhanced version of the game was released on the Sony PlayStation in 2001 only in Japan.
Plot
The game begins as a driller named Susumu Hori moves to Minecraftia with his family. There, he encounters several characters, one of whom reveals the danger facing ten diamonds that are being chased by an evil group known as Team Ankoku. These diamonds, whenever all of them are collected, it makes their wishes come true by unleashing the tools. Susumu and his friends must keep the diamonds from being stolen by Team Ankoku's influence and prevent their resurgence.
Development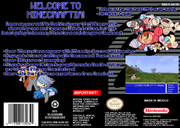 Development of
Mr. Driller G
started in March of 1989.
Mr. Driller G
was originally intended to be an NES game, but when Namco announced that the Super Famicom was making its way to the market in December of 1989, Namco scrapped the project and adapted the graphics to meet the Super Famicom's. The project took two years.
The game was released in Japan on October 19, 1991. Before the official release, Japanese authorities asked Namco not to release the game on a weekday because students would cut school to wait in line to buy the game.
The English translation began shortly after the Japanese release by fans all across the United States of America. In fact, it was the first game in the series to be fan-translated entirely by translator Jasmine Coté. Others tried but failed in attempt. It was first revealed in the Nintendo Power magazine issue of November/December 1991.
In November 2001, an enhanced version of the game was released on the Sony PlayStation in Japan. Unfortunately, it proved to be a commercial failure and was pulled from the market after they received some complaints from Japanese fans saying "What the heck happened to the story line!? Why did you cut it to the five best moments from the Super Famicom version?"
A Virtual Console version of the game was released on September 17, 2008. Following the release of the game, Nintendo reported an issue with the game that it was incompatible for Virtual Console. The game had a bug when attempting to save, an error would occur saying the data is corrupted if the player purchased a Wii Console made in December 2007 or earlier.
Sprite Gallery