Mr. Driller Adventure 2 is the sequel to the 1985 game, Mr. Driller Adventure. Released in 1987 by Namco for NES and Arcade
Mr. Drilller Adventure 2
Developer(s)
Namco
Publisher(s)
Namco
Platform(s)
NES, Arcade
Release Date(s)
1987
Mode(s)
Single-player, Co-op
Genre(s)
Platformer
Series
Mr. Driller
Predecessor
Mr. Driller Adventure
Media Included
NES Cartridge
Susumu Hori is back! And is going across the globe to stop the underground monsters. Now with new co-op options, player 2 can control Anna Hottenmeyer.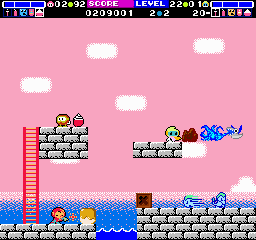 Gameplay is the same as its preddecessor, with new and refined controls, stage elements, and Co-Op gameplay
Jetpack - The Jetpack allows you to float in the air for a brief moment of time (Similar to Peach in SMB2) It is lost when you lose a life.
Drill Revolver - The Drill Revolver is a gun that allows you to shoot at enemies (Can be used forwards and overhead)