"Hey! My letter is Greek! Gamma to be precise! GAMMA! HAHAHA!"


—Mr. WL
Mr. Γ
or
Mr. WL
is
Waluigi
's alter ego, he is very similar to
Mr. L
.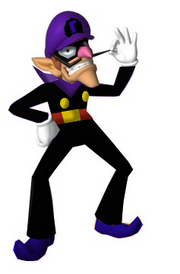 Appearences
Debut as a kart racer!
Mr. Γ makes his debut appearance as a kart racer. He first appears in Mario Kart ACTION!. He is partners with Mr. L. His special item is a timer.
Waluigi gets brainwashed to become Mr. Γ for the second boss in Paper Wario.
He appears in the second and third games as a character appearing when Waluigi comes in contact with a Wacky Orb. Like the other Mr. Forms, it only lasts for a limited time, but he is invinsible, very much like the stars of other Mario games.
Gallery