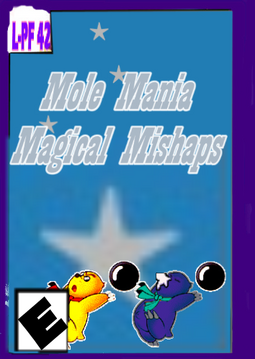 Mole Mania: Magical Mishaps is a new game for Legendary Pop-Fizz 42, ROC, Nintendo 3DS, and LPF Portable.
ROCU

Muddy Mole
Story
Muddy was stealing cabbage for his family, when he found out that he took Magic Cabbage from a castle inhabited by an evil wizzard! That wizzard took his kids, and banished them to a magical land! Muddy however, was in luck as he found a magical star-nosed mole named Sparky Mole, who has a magic tunnel that leads in & out of the magic land. Muddy Mole and Sparky Mole are off! to save the mole kids!
Playable Characters
Muddy Mole
Sparky Mole
Game Play
Multi-Platforms
Levels
Cabbage Castle
Magic Gates
Fertile Fairy Land
Iron Ocean
Diggy Mole's Desert
Snow and Lava 
Starry Spirals
Bosses
Magical Gate Keeper
Dark Fairy
Robo-Shark
Bone-asaurus Rex
Lava Monster and Snow Man
Wizzard
Ad blocker interference detected!
Wikia is a free-to-use site that makes money from advertising. We have a modified experience for viewers using ad blockers

Wikia is not accessible if you've made further modifications. Remove the custom ad blocker rule(s) and the page will load as expected.