This is the nerd's article, don't edit without his permission at all! Got that,

<insert your name here>

?
Mini Man (series)
Developer(s)
Griffin
Publisher(s)
Griffin
Genre(s)
Fighting, Adventure
Spinoff(s)
CURRENTLY NO SPINOFFS
First Game
Mini Man
Most Recent Game
Mini Man Time Adventure
Platform(s)
Gamersworld and Gamersystem
Description
The Games are about mini man and his adventures. His main enemy is Big Man. His assistant during the game is Mr. QB (Cube) and they always are trying to save  Mr. QB's Brother, Tri - Guy. He also has a pet named Fuzzling Frank, he is the last fuzzling in Stick Village. He only has feet and is VERY fuzzy.
Games
PLEASE NOTE THESE PAGES MAY NOT EXSIST BUT WILL EVENTUALLY EXSIST
Mini Man
Mini Man DELUXE!
Mini Man 3-D
Mini Man RISES
Mini Man Wizard Man
Mini Man Legends
Mini Man Time Adventure
Official Griffin ARTWORK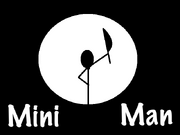 Main Characters in EACH game
Mini Man-
P1- Mini Man
P2- Mr. QB
P3- Rhombus Mombus
P4- Fuzzling Frank
Mini Man Deluxe -
P1- Mini Man
P2- Mr. QB
P3- Tri - Guy
P4- Fuzzling Frank
Mini Man 3-D -
P1-Mini Man
P2- Mr. QB
P3- Tri Guy
P4- Fuzzling Frank
Mini Man RISES -
P1- Mini Man
P2- Mr. QB
P3- Tri Guy
P4- Fuzzling Frank
Mini Man Wizard Man -
P1- Mini Wizard
P2- Mr. QB
P3- Wiz Liz
P4- FUZZARD Frank
Mini Man Legends -
P1- Mini Man
P2- Mr. QB
P3- Elder Eal
P4-  Fuzzling Frank
Mini Man Time Adventure -
P1- Mr. QB
P2- Tri - Guy
P3- Shapearo Linkonson
P4- Fuzzling Frank