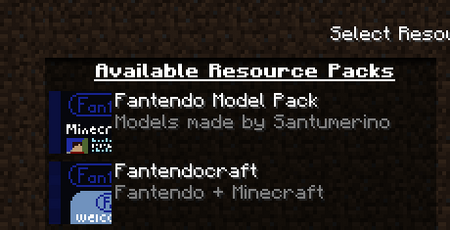 There are two planned Fantendo resource packs for Minecraft. One of them is a more traditional resource pack. The other one is a collection of 3D models. Both of them are being made by Santumerino.
Fantendo Model Pack
The Fantendo Model Pack is a collection of models made with the program "MrCrayfish Model Creator". Users may suggest models in the blog post and they'll be made and included in the pack. This pack should NOT be used as a "default" pack as it will most likely lag and crash the game. The pack download will include a map showcasing the models.
Fantendocraft
Fantendocraft is a more "traditional" resource pack. It'll change the block and items texture (as well as some models). There isn't much info about this pack yet, but it'll be based on the default Minecraft theme.
Ad blocker interference detected!
Wikia is a free-to-use site that makes money from advertising. We have a modified experience for viewers using ad blockers

Wikia is not accessible if you've made further modifications. Remove the custom ad blocker rule(s) and the page will load as expected.