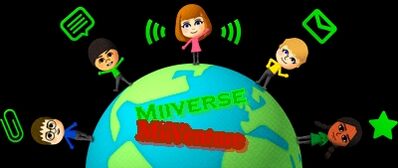 Game
Miiverse MiiVenture is a game about Miiverse posts for the Wii U, it checks the Miiverse Quest group and makes questions based on those posts like "Who made this post?". It was created as a collaboration between Float Island Inc. and Santumerino. This game is only available in America. It is rated E.
Modes
There are different playable modes.
Story
---
There's no actual "story", but the normal mode is called like this.
Suggestion Mode
In this mode you can suggest posts, much like the Suggest option on Trivia Crack. You choose a post and 4 answers (one of them being correct)
Moderation
Here you can moderate other people's suggestions to see if they are appropiate and correct.
Wi-Fi less option
There's an option that activates when there's no WI-FI, it grabs the offline posts that are in the game's data, and the ones you answered before (wrongly), it mixes them and gives them to you for answering.
Ad blocker interference detected!
Wikia is a free-to-use site that makes money from advertising. We have a modified experience for viewers using ad blockers

Wikia is not accessible if you've made further modifications. Remove the custom ad blocker rule(s) and the page will load as expected.