Mii+ 
(Known in PAL regions as
Miii)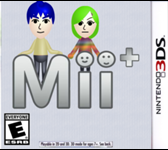 is an upcoming extension to the
Mii Maker
 for the
Nintendo 3DS
, It is the same as the original Nintendo 3DS Mii Maker, But has a lot of additional features. Every Mii+ Made can be kept in the Mii+ Plaza, or transferred to the Mii Maker, and saved.
New Features
The player can now choose between a huge variety of Colors for the Mii's Shirt/Dress, Instead of the usual 10.
The Miis hair colors and pants colors can be changed.
The Miis size (Height, Width) limit is expanded by a lot.

This applies to facial features as well.

Hair styles can now be slightly customized
Miis now have different types of shirts (Sweatshirt, Jumpsuit, ect.)
Mii heads can also be applied to the player character's head in even more games than normally.
Gallery