Ad blocker interference detected!
Wikia is a free-to-use site that makes money from advertising. We have a modified experience for viewers using ad blockers

Wikia is not accessible if you've made further modifications. Remove the custom ad blocker rule(s) and the page will load as expected.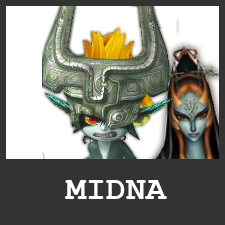 broad
Midna, the Twilight Princess, is a main character in Twilight Princess. She is a resident of the Twilight Realm and a descendant of the ancient Twili people.[1] At first she seems to be a strange, dark creature with an agenda of her own and little regard for Link,[2] but she ends up changing her attitude towards those who are willing to help her.[3]
| NOM STAT | MIDNA STAT  | PRINCESS STAT |
| --- | --- | --- |
| Heart | 100% | 90% |
| Might | -1 | -1.5 |
| Protection | -0.5 | -1 |
| Speed | +0.75 | +1.5 |
| Magik | +1.25 | +2 |
|  distance | +0.5 | +0.75 |
| TYPE | SPEED | TECHNICAL |
Mouverest
| Type mouverest | Midna mouverest |
| --- | --- |
| Classic-Attaque: | shot helmet |
| Special Attack-normale | Twilight hand |
| Special Attack-Side | illusion of the wolf |
| Special Attack-Haut | twilight spin |
| Attaque spéciale-Bas | shock of the black hand |
| Attaques à distance | twilight assault |
| Attaques défensives | giant helmet |
| Smash-finale | twilight mirror |