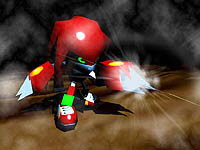 Mecha Knuckles was the third robot in the
Metal Series
created by
Dr. Eggman
, the most strongest out of the first three based on
Knuckles the Echidna
. The only game Mecha Knuckles appeared in was
Sonic R
, which was Sonic Racing game for the Sega Saturn.  
Appearances
Sonic CD 2 Mecha Knuckles was originally going to be in Sonic CD 2 by guarding the Master Emerald, but Metal Tails took his place. There is 2 codes you enter in the Sound Test in the XBOX Edition to see his beta artwork and his secret ending.
Gallery
Ad blocker interference detected!
Wikia is a free-to-use site that makes money from advertising. We have a modified experience for viewers using ad blockers

Wikia is not accessible if you've made further modifications. Remove the custom ad blocker rule(s) and the page will load as expected.