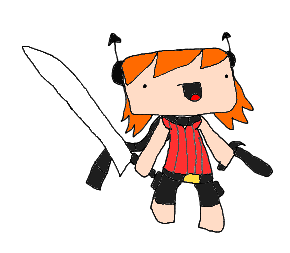 Melodia is an character that appears in Little Big Doodleland 3 as one of the several main characters. She is an bounty hunter, and wears a sleeveless sweater and black shorts. She also wears headphones in addition to a long black scarf. She looks a bit like Treena, but she is not a Doodleland Gaurdian even though she fits the size.
Her role in Little Big Doodleland 3 is later into the story where she rescues Sarah and Ramona from being killed by the Dark Scribble Followers after they find out they were faking with a Dark Scribble Follower berry. She later has to fight off the minions to allow the rest of the group into the Dark Scribble's lair, and then appears later on a zipline made of bones and gets knocked out by Chandermi Camine, and is not seen again until Dark Scribble is defeated, and helps everyone escape while the place collapses. She is shown to be alive afterwards, and joins the the rest of the group.
Backstory
She worked with Draco C. a while back as a spy for various villains, leading to their capture. She ultimately betrayed him later on, working as a freelance spy from then on.
Draco C. has not fully forgiven her, but at the same doesn't hate her to a extent where he wants her dead.
It is said that her parents were brainwashed by the Dark Scribble 16 years ago, and that she doesn't know where they are anymore.
Personality
She is a elite spy, and usually rushes through things if they are not going well. She takes the occasional risk, and usually can't be trusted with her friends.
Gallery