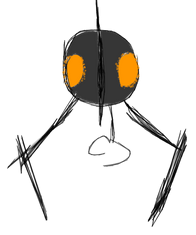 The Melchalinate are a group of organic mechanisms that guard the Hole of Nightmares. They live in the large ditch, and while one isn't very strong, a couple can easily overpower a person.
Appearances
The Melchalinate have appeared in Doodleland Hack/Space as one of the graffiti on the first Space Dungeon. They are said to make their full first appearance in Thumbelina (2013).
Other
They are drawn much sketchier than any of the Doodleland characters.
Ad blocker interference detected!
Wikia is a free-to-use site that makes money from advertising. We have a modified experience for viewers using ad blockers

Wikia is not accessible if you've made further modifications. Remove the custom ad blocker rule(s) and the page will load as expected.