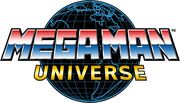 Mega Man Universe (メガマン ユニバース Mega Man Yunibāsu?) is the name of a canceled 2.5D action platformer game in the Mega Man series being developed by Capcom for Xbox Live Arcade and PlayStation Network, . Mainly based on Mega Man 2, the game would have allowed players to create their own levels and customize characters. It would have been the first game in the franchise to be referred to as "Mega Man" in Japan, where the franchise was always known as "Rockman".
The game was later picked up by Overclocked after punching Capcom several times in the face and groin. It was released for Wii U, Wii, Playstation 3, and dropped support for Xbox 360.
Gameplay
Gameplay follows previous games in the series and initially comes with stages for Megaman 1 and Megaman 2. Other stages for different Megaman games are unlocked after beating those stages.
It also features a stage creator and a character creator. These were all features that were developed for the game before it was cancelled.
Ad blocker interference detected!
Wikia is a free-to-use site that makes money from advertising. We have a modified experience for viewers using ad blockers

Wikia is not accessible if you've made further modifications. Remove the custom ad blocker rule(s) and the page will load as expected.