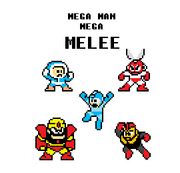 MEGA MAN MEGA MELEE is a 4 player fighting game that is pretty much a Mega Man version of the SSB series.It is for the Wii and uses the GC or Classic controller.
Basic Moves
Every character can use these moves:
A-punch
A+A-kick
Down+A-low kick
Y-Jump
Yx2-Double Jump
Up-aim up
Hard Tilt Left/Right+A or C Stick Left/Right-Karate Chop
Hard Tilt Up+A or C Stick Up-High Kick
Hard Tilt Down+A or C Stick Down- Spin Kick
Hard Tilt Left/Right-Run
Also, characters can use their own Mega Move, sort of like final smashes. To do so, they must get an Ultra Energy Can
Characters
A list of every character
Starting:Mega Man,Bomb Man,Guts Man,Ice Man,Cut Man
Unlockable*:Heat Man,Air Man,Top Man,Snake Man,Dust Man,Toad Man,Charge Man,Star Man,KnightMan,Tomahawk Man,Bass,and Protoman.
all robot masters are unlocked by beating them in story mode except Bass and Protoman.Protoman is received by beating story mode and Bass by beating story mode with Protoman.
to see the characters and bosses, click here.
P.S. all sprites are from Spriters Resource
Ad blocker interference detected!
Wikia is a free-to-use site that makes money from advertising. We have a modified experience for viewers using ad blockers

Wikia is not accessible if you've made further modifications. Remove the custom ad blocker rule(s) and the page will load as expected.