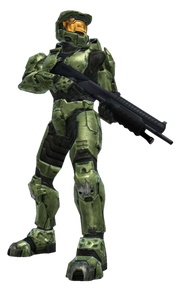 Master Chief
is the main protagonist of the 
HALO
series. He appears in
Xbox All-Stars Battle Royale
as a playable character. His in-game rival is
Marcus Fenix
Biography
HERE TO FINISH THE FIGHT
TBA...
THE LEGACY OF MASTER CHIEF
HALO: Combat Evolved
HALO 2
HALO 3
HALO Wars
HALO 3: ODST
HALO Reach
HALO 4
HALO: Spartan Assault
Arcade
Opening
TBA...
Rivalry
Name: Marcus Fenix
Reason: Unknown
Connection: Both Gears of War and HALO are first-person shooting games that have been exclusive to Xbox consoles. Master Chief and Marcus Fenix are both soldiers that wield a wide variety of weaponry.
Ending
TBA...
Gameplay
Master Chief relies heavily on weaponry and fighting from a distance.
A Moves:
X Moves:
B Moves:
Supers
Level 1 Super
Level 2 Super
Level 3 Super
Quotes and Taunts
Taunts
Teabagged: Master Chief squats multiple times.
Quotes
When Selected:
Item Pick-Up:
Pre-Match:
Successful KO
Respawn:
Animations
Entrance
Locked and Loaded: Master Chief is seen readying his gun and pointing it forward.
Win
Spartan Victory: Master Chief has his gun by his side and salutes.
Lost
If using Spartan Victory: Master Chief punches the ground.
Results Screen
Costumes
Spartan Commander
Master Chief's basic appearance, as seen in the picture above.
Green armor, yellow lenses
Red armor, yellow lenses
Blue armor, yellow lenses
Ad blocker interference detected!
Wikia is a free-to-use site that makes money from advertising. We have a modified experience for viewers using ad blockers

Wikia is not accessible if you've made further modifications. Remove the custom ad blocker rule(s) and the page will load as expected.