"I have failed you all..."


— Martian ManHunter in Justice: Apocalypse
Martian ManHunter is a fictional DC character who came from the planet, Mars, as Jonn J'onzz.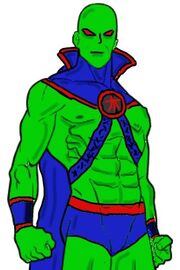 Appearances
After shamefully watching the genocide of so many human lives, Jonn was overwhelmed with guilt and wandered the Earth with the burden upon him. Luckily, when he heard of the time portal, he immediately sprang into action.
Trivia
Gallery
Ad blocker interference detected!
Wikia is a free-to-use site that makes money from advertising. We have a modified experience for viewers using ad blockers

Wikia is not accessible if you've made further modifications. Remove the custom ad blocker rule(s) and the page will load as expected.