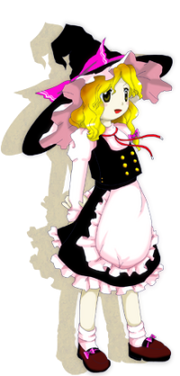 Marisa is a character in Camwoodstock Smash Bros. who is female. She has very low HP but very high attack and speed.
List of special attacks
Broom (Same as fly, just no chip damage.)
Bomb (Close range magic weapon.)
FINAL SMASH: BOOKS HAAAAX (BOOKS EVERYWHERE! She throws books, well, everywhere. They HURT.
Ad blocker interference detected!
Wikia is a free-to-use site that makes money from advertising. We have a modified experience for viewers using ad blockers

Wikia is not accessible if you've made further modifications. Remove the custom ad blocker rule(s) and the page will load as expected.