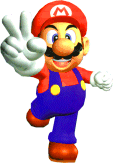 Mario vs Bleach
Developer(s)
ATM games inc.
Publisher(s)
Same as above
Platform(s)
Nintendo Wii, Nintendo Gamecube.
Release Date(s)
2011
Mode(s)
Campaign:Bleach side, Mario side.. Vs mode:On-line,local,computer. Replay&screen shot zone. On line DLC store. Survival mode,time attack,special battle.
Age Rating(s)
game spot: 8.5/10, ign 7.5/10, user rating: 9.0/10
Genre(s)
fighting
Story
Marios side: Mario and Luigi are out for a stroll when they in counter wario and waluigi holding a cystal of some sort, a reddish colur. The crystal starts glowing madly, and mario and luigi start freeking out, the gem brightens making it almost impossible to see and before they know it they are sucked into the world of bleach.
Ichigos side: Ichigo is at his school with his friends eating lunch when a dark hole apears in the sky, they wonder what it is and try and examine it from afair. The hole widens and out pops, Mario,luigi,Waluigi,Wario and a whole bunch of the mario cast landing onto the grass.
Modes
Campaign:The Campaign mode lets you experience the story full hand, allowing you to choose from Marios side, or Ichigos side.
Vs mode: Allows you to play with u to 4 people local, Single player/with computers,online and with the gamecube/wii conecter.
Replay&screen shot zone: Allows you to view replays, and screenshots you have on the system or a sd card.
On line DLC store: Allows you to download online DLC, like Characters and stages, some are free and some cost BM points which is the ingame cash you can get.
Survival mode: Battle enemy after enemy in this mode;good for gaining BM points.
Time mode: Defeat 20 enemys as fast as you can, and upload your score/try and improve. (note:the amount of enemys and time limit can be changed.)
Special mode: You can set special atributes for the battle; here is a list of what they are:
-Hp on, you can set hp so when you fight you battle to destroy hp instead of just nostop fighting till they die.
-Giant mode, everyones giant.
-Mini mode, everyones puny.
-Power up selection mode, make your own gametype.
-Time battle
-Live set,set how many lives everyone gets etc.5 each.
Roster
—Starting Characters—1.Mario
2.Luigi
3.Waluigi
4.Wario
5.Ichigo Kurosaki
6.Rukia Kuchiki
7.Chad (Yasutora Sado)
8.Orihime Inoue
9.Toad
10.Uryu Ishida—Unlockable—11.Toadette
12.Birdo
13.Yoshi
14.Bowser
15.Ludwig
16.Larry
17.Lemmy
18.Kon
19.Jinta Hanakari
20.Ururu Tsumugiya
21.Kisuke Urahara
22.Tessai Tsukabishi
23.Yoruichi Shihoin(Cat form and Human switch ability)
24.Keigo Asano
25.Mizuiro Kojima
26.Tatsuki Arisawa
27.Chizuru Honsho
28.Peach
29.Daisy
30.Boo
31.Donkey Kong
32.Shinji Hirako
33.Mashiro Kuna
34.Hiyori Sarugaki
35.Genryusai shigekuni Yamamoto
36.Isane Kotetsu
37.Hanataro Yamada
38.Sosuke Aizen
39.Gin Ichimaru
40.Soifon
41.Izuru Kira
42.Byakuya Kuchiki
43.Renji Abarai
44.Koga Kuchiki
45.Sajin
46.Nanao Ise
47.Shuhei Hisagi
48.Toshiro Hitsugaya
49.Kenpachi Zaraki
50.Ragiku Matsumoto
51.Yachiru Kusajishi
52.Ikkaku Madarame
53.
How to unlock! :D
DLC
Campaign
Bosses
Power ups