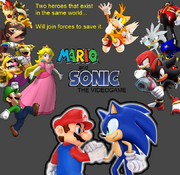 A
Mario
/
Sonic
crossover video game formerly known as
Mario and Sonic: the Video Game
. By AdamGregory03.
Story
The first cutscene starts out at Bowser's Castle. Bowser and the Koopalings are up to no good again with a Death Koopa Ray. They've locked Peach up in a cage. Soon Mario comes into the room.
Meanwhile, on the other side of the world, Dr. Eggman has created the Death Egg Ray. Sonic soon comes in to stop the evil egg-shaped scientist before it's too late.
Bowser and Eggman activate they're weapons at the same time, causing them to missing they're enemies and collide with one another. The radiation from the beams eventually causes earthquakes and floods. Soon, the silhouette of a mysterious villain appears and forces the beams back to the weapons, causing a massive explosion. Soon Mario, Sonic and their friends wake up to seen that the explosion caused the world to split in half. They team up to stop the new evil from destroying the world.
Gameplay
It appears that the gameplay for the Mario world characters is going to be similar to Super Mario Galaxy, while the gameplay for the Sonic world characters is going to be more like Sonic Colors.
Characters
Characters.
Mario World
Bowser Jr. (also a boss)
Bowser (also a boss)
Toad
Toadette
Koopa Troopa
Dry Bones
Shy Guy
Rosalina
Funky Kong
Dixie Kong
Sonic World
Metal Sonic (also a boss)
Dr. Eggman (also a boss)

Espio

Charmy

Cream & Chesse

Emerl

Tikal

E-102 Gamma

E-123 Omega

Marine
bold means that character is unlockable.
Confirmed Levels
Enemies