A full list of characters in Mario VS Sonic Battle Royale.
Mario Heroes
Mario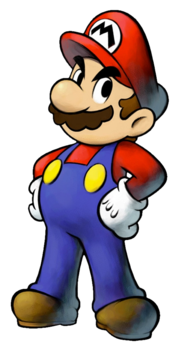 Attributes
Speed: 5/10
Power: 5/10
Defence: 5/10
Jump: 5/10
Conclusion: All-Round
Other
Attacks
B: Kick
B + B: Double Kick
B x3: Double Kick + Headbutt
Y: Fire Flower
Y + Y: Fire Flower + Superball
Y x3: Fire Flower + Superball + Ice Flower
X: Cape
X + X: Double Cape
X x3: Double Cape + Raccoon Leaf
More TBA
Exaggerated Attacks
Overdrive: Mario Finale
Overlimit: Extreme Fireball - Mario creates a huge fire ball that falls onto the ground and sent everything ablaze.
GigaBreak: Jumpman Combo - A hammer combo followed by a headbutt.
More Mario Heroes TBA
Mario Neutrals
TBA
Mario Villains

Bowser
Attributes
Speed: 4/10
Power: 8/10
Defence: 7/10
Jump: 4/10
Conclusion: Powerhouse
Other
Attacks
B: Claw Swipe
B + B: Claw swipe and bite
B x3: Claw swipe, bite and tail swipe
Y: Fire ball
Y + Y: Fire ball and fire shot
Y x3: Fire ball, fire shot and fire roar
X: Dash Slash
X + X: Dash Slam
X x3: Bowser Bomb
More TBA
Exaggerated Attacks
Overdrive: Fire Implosion
Overlimit: Fire Detonation
GigaBreak: Magma Meltdown
More TBA