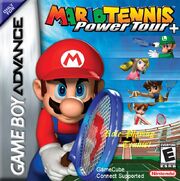 Mario Tennis: Power Tour+
(マリオテニスアドバンス+
Mario Tenisu Adobansu Purasu
) is bad content fixing Mario Tennis: Power Tour by
Game Boy Advance
. Rereleased this game with GBA.
Originally, Mario Tennis: Power Tour was only 6 Mario characters and 30 human characters. That's only 1/6 is playable. And Waluigi was in it, Wario, Yoshi, and Daisy are left out. Courts are only have 4 gereric them. Entire of NGC Mario-theme courts are take out.
As result, Fixed roster making as Mario Tennis: Power Tour.
Characters
Playable
Mario (All-Around)
Luigi (All-Around)
Peach (Technique)
Waluigi (Defensive)
Donkey Kong (Power)
Bowser (Power)
Yoshi (Speedy)
Boo (Tricky)
Wario (Power) (Unlockable)
Daisy (Technique) (Unlockable)
Diddy Kong (Speedy) (Unlockable)
Bowser Jr. (Tricky) (Unlockable)
Clay (You)
Ace (You)
Alex (Speedy)
Harry (Power)
Nina (Technique)
Kate (Defensive)
Mark (All-Around)
Sammi (Technique)
Sean (All-Around)
Spike (Tricky)
Elden (Speedy)
Emily (Speedy)
A. Coz (Tricky)
B. Coz (Power)
NPCs
Story Mode rival only
Allie (Speedy)
Joy (Technique)
Brian (All-Around)
Pam (Defensive)
Bob (Power)
Beth (Speedy)
Fay (Power)
Curt (Tricky)
These characters are only rival on Junior, Senior and Varsity class.
Not Earned characters
Kevin (All-Around)
Frank (Defensive)
Ellis (Technique)
Edgar (Power)
These characters are never faced on Island Open Tournament.
Other NPCs
Elroy (All-Around)
Tori (Technique)
Mario characters
Courts
Hard Court
Clay Court
Grass Court
Composition Court
Unlockable Courts
Peach Dome Court
DK Jungle Court
Luigi's Mansion Court
Wario Factory Court
Delfino Plaza Court
Gooper Blooper Court
Bowser's Castle Court
Mario Classic Court
Story Mode Rival Members
Junior Singles

4. Pam
3. Curt
2. Beth
1. Bob

Junior Doubles

3. Brian & Fay (Red)
2. Beth & Pam
1. Bob & Curt

Senior Singles

4. Brian (Red)
3. Joy (Purple)
2. Allie (Yellow)
1. Fay (Blue)

Senior Doubles

3. Beth (Yellow) & Curt (Green)
2. Brian (Red) & Joy (Purple)
1. Allie (Yellow) & Fay (Blue)

Varsity Singles

4. Fay (Green)
3. Bob (Blue)
2. Nina
1. Alex

Varsity Doubles

3. Bob (Blue) & Mark
2. Nina & Kate
1. Alex & Harry

Island Open Singles
Peach Tournament Singles

4. Peach
3. Bowser
2. Wario
1. Mario

Peach Tournament Doubles

3. Luigi & Donkey Kong
2. Yoshi & Boo
1. Mario & Peach
Ad blocker interference detected!
Wikia is a free-to-use site that makes money from advertising. We have a modified experience for viewers using ad blockers

Wikia is not accessible if you've made further modifications. Remove the custom ad blocker rule(s) and the page will load as expected.