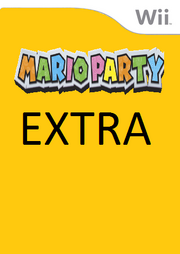 This is the sequel to Mario Party 8. It will be released before Mario Party 9.
Many Stuff will be from Mario Party 3, 5, 6, 7, 8 Super Mario Galaxy, Super Mario RPG and Super Mario Galaxy 2.
Veteran Characters
Mario
Luigi
Peach
Yoshi
Wario
Daisy
Waluigi
Toad
Toadette
Birdo
Koopa Troopa
Shy Guy
Hammer Bro.
New Characters
Paratroopa
Girlly Hello Kitty
Boards
Starshine BeachComet ObservatoryToad TownYo'ster IsleFreezy Flake
NPC's
Toadbert
Bowser (Koopa)
Kamek
Shy Guy
Toadsworth
Bowser Jr. (Koopa Jr.)(Bowsy)
Tumble
Others
Star (Collect these for 20 coins.)
Grand Star (If you win a party, all your stars merge into a grand star.)
Minigame Card (If you get a high score on a minigame, you can play it without having to start a new party.)
Fun Point (If you get a high score on a minigame, If you beat Bowser, If you win 1st-3rd in a party. These can get you fun stuff.)
Minigames
Funky Rhythm
Pizza Perfect
King of the Galaxy
Astro Ride
Art Attack
Blooper And Lightning
Ice Climbing
Shake It!
Slip And Swim
Slot Car Chalenge
Mushroom Maze
Roaming Goomba
Pyramid Climbers
Classic Minigames
Tipsy Tourney (Mario Party)
Honeycomb Havoc (Mario Party 2)
Toadstool Titan (Mario Party 3)
Long Claw Of The Law (Mario Party 4)
Curvy Curbs (Mario Party 5)
Mowtown (Mario Party 6)
Pokey Pummel (Mario Party 7)
Shake It Up (Mario Party 8)
Rail Riders (Mario Party DS)
DK Minigames
Donkey Kong RacingBanana Kingdom BunchBanana Slide
Classic DK Minigame
Jump, Man!
Bowser Minigames
Bowser's Burning Adventure
Bowser's Burn Bash
Burnin' Kart
Classic Bowser Minigame
Pit Boss
Ad blocker interference detected!
Wikia is a free-to-use site that makes money from advertising. We have a modified experience for viewers using ad blockers

Wikia is not accessible if you've made further modifications. Remove the custom ad blocker rule(s) and the page will load as expected.