Ad blocker interference detected!
Wikia is a free-to-use site that makes money from advertising. We have a modified experience for viewers using ad blockers

Wikia is not accessible if you've made further modifications. Remove the custom ad blocker rule(s) and the page will load as expected.
This is a page YoshiGo99 made,
DO NOT
edit this page unless you are fixing errors or adding categories.
Mario Strikers Unleashed is a Mario spinoff and the third Mario Strikers game in the series. It is created by Cosmic Koopa Company and is a Wii U game. It features many elements such as team captains, sidekicks, items as well as fields from the previous games.
Team Captains
Mario

Character Type: Balanced
Mega Fiery Strike: Mario turns into a fiery Metal Mario before mashing the ball.
Super Ability: Super Mario
Theme: Remix of Super Mario Bros. Overworld theme

Luigi

Character Type: Balanced
Green Fiery Strike: Luigi turns into a fiery Metal Luigi before mashing the ball.
Super Ability: Super Twister
Theme: Remix of Super Mario Bros. 3 Overworld theme

Peach

Character Type: Playmaker
Angel Heart Strike:' Peach grows wings and hearts swirl around her before mashing the ball.
Super Ability: Freeze Frame
Theme: Techno

Daisy

Character Type: Defensive
Power Flower Strike: Daisy grows flowers around her before mashing the ball.
Super Ability: Freeze Frame
Theme: Progressive Rock

Donkey Kong

Character Type: Power
Konga Smack Strike: DK gathers electricity and smacks his hands together before mashing the ball.
Super Ability: Thunder Wham
Theme: African Drums
Sidekicks/Allies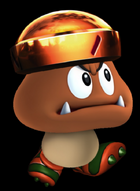 Items