Ad blocker interference detected!
Wikia is a free-to-use site that makes money from advertising. We have a modified experience for viewers using ad blockers

Wikia is not accessible if you've made further modifications. Remove the custom ad blocker rule(s) and the page will load as expected.
Mario Stadium is a recurring and premiere sports stadium seen in many of the Mario sports spin-off titles in the Super Mario franchise. It first appeared in Mario Tennis and held tennis game events, but as time passed, it later began holding basketball, hockey, and baseball matches as well. It can usually be seen as the first court or stadium of the games it appears in and normally features no added hazards or obstacles to interfere in the sports being played here.
General Information
| | | | |
| --- | --- | --- | --- |
| Name | Mario Stadium | Origin | Mario Tennis |
| Location | Mushroom Kingdom | Release Date | July,2000 |
| Availability | Default | Home Stage of | Mario characters |
| Size | Small-Medium | Difficulty | Easy |
Stage Layout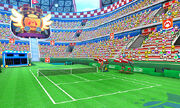 The stage takes place on a main, central platform suspended in the air within the stadium itself, just high enough to allow for a bottom KO border, but not too high that much of the stadium itself can't be featured in the background. The appearance of this main platform will change as the events that take place here switch between sports, but the layout remains constant. No additional, passable platforms exist on the stage and the terrain is completely flat, the main feature of this stage lies in the hazards.
Hazards
he stage's hazards are played out in different phases, in which each phases represents a different sport that has been featured in various Mario sports spin-off titles. These sports are played in the near background of the main platform and the playfield changes to the appropriate court or field each time the sport changes. All sports are played by Kritters, Koopas, Piantas, and Nokis of varying colors. 
| Number | Name | Image | Description  |
| --- | --- | --- | --- |
| Hazard #1 | Baseball | | Homeruns may occur at random intervals and the baseball may strike an unsuspecting fighter on the stage. If this occurs, the player will recieve between 7% to 10% damage. The Baseball phase will end after each team has played a single inning each. |
| Hazard #2 | Basketball | | The same Kritters, Koopas, Piantas, and Nokis will then strap on sneakers before playing three minutes of Basketball on a hardwood court. Here, each time one of them score a Slam Dunk, their shot will echo across the stage and shatter all active shields, leaving the defender dazed. Like in Baseball, the ball may come into play during the fight as well when missed three-point shots go off the court and may strike a fighter. These out-of-bound throws won't cause as much damage as a Baseball, but the ball itself is a larger object. The next game to be played is Tennis. |
Songs