Ad blocker interference detected!
Wikia is a free-to-use site that makes money from advertising. We have a modified experience for viewers using ad blockers

Wikia is not accessible if you've made further modifications. Remove the custom ad blocker rule(s) and the page will load as expected.
This article belongs to Brindakrisztian. You have permission to edit the page. Please enjoy it!
                                                                                                                                                                                                                                                                                                              Mario Party Z(or Mario Party Zeis) is a game in the Mario Party series for 
Nintendo Bant
.
Story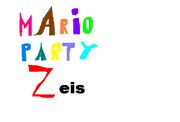 Same as Mario Party Y.Sprixies get stolen by Bowser using his new machine,VacuumCube 2500.
Game modes
Story Mode
Party Mode
Minigame Mode-Minigames
Boss Rush
Step It Up
Garden Battle
Duel Mode
Boards
Tutan Desert- A desert-themed board.The  mid-boss on this board is King Tut,the boss is Tutankoopa.
Isle Delfino- From Super Mario Sunshine.The mid-boss is Petey Piranha,the boss is Shadow Mario.
Bowser's Illusion World- A new lava-themed board.The mid-boss is Bowser Jr.,the boss is Bowser.
The Green Toxic Sea- A sea that resembes a a sea of toxic gas.The mid-boss is Big Bertha,the boss is a big Blooper.
Characters
Rare also made this game along with Nintendo,so also Rare characters are playable.Because of this,this is the Mario Party game with most players.
 Story Mode
Mario 
Luigi
Wario
Waluigi
Peach
Daisy
Toad
Only playable in other modes
Toadette
DK
Donkey Kong Jr.
Diddy Kong
Dixie Kong
Tiny Kong
Lanky Kong
Chunky Kong
Kiddy Kong
Yoshi
Rosalina
Baby Mario
Baby Luigi
Baby Wario
Baby Waluigi
Baby Peach
Baby Daisy
Baby DK
Baby Yoshi
Baby Rosalina
Koopa
Paratroopa
Boo
Blooper
Bowser
Bowser Jr.
Baby Bowser
Koopa Kid
Birdo
Conker
Banjo
Kazooie
Bottles
Tooty
Grunty
Marvin
Mii
Hammer Bro.
Credits
Fandro-For the boxart.