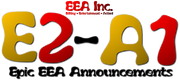 Mario Party Infinite is a part of E2-A1 09.
Developer(s)
(Originally Max2 Inc.)
Publisher(s)
Platform(s)
Release Date(s)
November 26, 2009
November 29, 2009
November 30, 2009
December 8, 2009
June 13, 2010
Mode(s)
1-4 Players
Age Rating(s)
Genre(s)
Party
Media Included
DS Card
Mario Party Infinite (Japanese: マリオの無限の加盟者, Mario's Infinite Party) is a Mario Party game, that was released in 2009 for the Nintendo DS and 2010 for the Omega Factor (as the title Mario Party Factor). It is Mario's most recent Party adventure. The game was going to be worked on by Max2 Inc. but they let EEA Inc. take over after the game was delayed and was planned to release for 2008.
Gameplay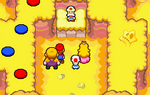 Unlike the other Mario Party games, Mario Party Infinite has Mario & Luigi series graphics. Up to 4 players can play the game. There is 3 kinds of team modes, 4 for all, 2-on-2 (separate), and 2-on-2 (together). Returning elements from the other Mario Party games are traveling around the board and buying Stars and getting items to steal Stars and Coins from other players. Orbs (and Candies) are replaced by Party Cards. Mini-games will also return in the game with retro included. Not only mini-games have retro, Boards also do, one from every Mario Party game. Bosses from Mario Party DS will not reappear in the game. The shop will also reappear where you can buy locked characters, voices, figures, and many more items. In Party Mode, Toadsworth returns from Mario Party 7 as the host of the party. Tumble also appears as the host of the Mini-Games.
Characters
All the characters from Mario Party 8 return as default characters in the game. There are 17 playable characters all together and three of them are unlockable. 2 of 17 (McBoo & Litle P) are non-Mario characters.
Default Characters
Unlockable Characters
These characters can be unlocked at the shop. After Bowser is unlocked, he is replaced by Dry Bowser in Party Mode as the main enemy.
Mcboo: 10 cards
Little P: 5 cards
Bowser: 20 cards
Boards
Default Boards
New Boards
Toad Train Station: Guide ToadWorsth, Boss Goomboss
Stardust Desert: Guide Pokey, Boss DKC4 King K. Krool
Freezya Summit: Guide Penguin, Boss King Brrrr
Palm Waves Resort: Guide Koopa Troopa, Boss Cheepskipper
Fine Vine Jungle: Guide Diddy Kong, Boss NES Donkey Kong
Screamy Cavern: Guide Big Boo, Boss King Boo
Fluffy Heights: Guide Kirby, Boss King Dedede
Gaddwork Galaxy: Guide Luma, Boss Dino Piranha
Retro Boards
Unlockable Boards
Koopa Kolosseum: Guide Doc Louis, Boss Bowser/Dry Bowser
Ad blocker interference detected!
Wikia is a free-to-use site that makes money from advertising. We have a modified experience for viewers using ad blockers

Wikia is not accessible if you've made further modifications. Remove the custom ad blocker rule(s) and the page will load as expected.