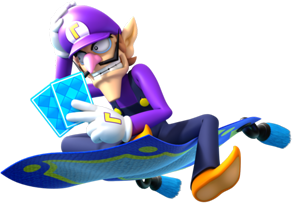 Wah! This is RetroNin's game. Please do not edit unless there is a spelling error or I said you could edit. Thanks!
Mario Party: Spooky Invite
Developer(s)
NinRMAX
Publisher(s)
Nintendo
Platform(s)
Nintendo 3DS
Release Date(s)
October 2015
Mode(s)
Party Mode, Gallery, Arcade.
Age Rating(s)
Rated E
Genre(s)
Party
Mario Party: Spooky Invite 
is a upcoming party game for the Nintendo 3DS. The game is developed by NinRMAX and published by Nintendo. Mario Party: Spooky Invite is celebrating Halloween for 2015. The game has over 37 minigames in counting.
Story
One night in the Mushroom Kingdom, Mario and the gang had nothing to do at their Halloween party. Then, Mario revices a call from Bowser, Saying that he wants the gang to come to his castle. Mario's friends agreed to go to Bowser's castle. Minutes later, The gang arrives at Bowser's Castle. But, It seems that they have been tricked and stuck in a haunted house full of ghosts and other things. They work together and try to get out of the spooky house and beat Bowser for good.
Characters
Image
Name
Description
How to Unlock

Mario
Mario is the main character in the game. He's ready to party with all his friends!
Starter

Luigi
The green plumber is back in the party and ready for some fun!
Starter
Wario
Wario loves gold, But he's also a fan of fun parties! He also joins on the party,
Starter

Waluigi
Wahh! Waluigi is also back into the party.
Starter

Princess Peach
While she is not kidnapped by King Koopa this time, Peach is joing in the party.
Starter

TBA
TBA
TBA
Ad blocker interference detected!
Wikia is a free-to-use site that makes money from advertising. We have a modified experience for viewers using ad blockers

Wikia is not accessible if you've made further modifications. Remove the custom ad blocker rule(s) and the page will load as expected.