Ad blocker interference detected!
Wikia is a free-to-use site that makes money from advertising. We have a modified experience for viewers using ad blockers

Wikia is not accessible if you've made further modifications. Remove the custom ad blocker rule(s) and the page will load as expected.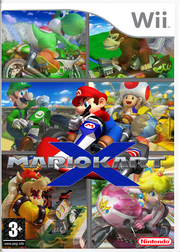 Mario Kart X is the latest in the Mario Kart series produced by C.A.M Inc.
Characters
Starters
Unlockables
Piranha Plant
Funky Kong
Cranky Kong
Wrinkly Kong
Tiny Kong
Dixie Kong
Candy Kong
Green Koopa Paratroopa
Red Koopa Troopa
Mr. M
Fat Guy
Dry Parabones
Dry Bowser Jr.
Boo
Bee
Green Shell Lakitu
Baby Rosalina
Courses
Mushroom Cup
Yoshi Island
Toad's Castle
Mario Circuit
Biscuit Land
Flower Cup
DK Jungle
Mushroom City
Good Egg Galaxy
Waluigi's Bob-omb Factory
Star Cup
Mushroom Kingdom
Diddy Banana Ship
King Boo's Castle
Bowser Castle 1
Special Cup
Peach Beach
Luigi Circuit
Bowser Castle 2
Rainbow Road 1
Rainbow Cup
Tetris Maze
Skyview Highway
Bowser Castle X
Rainbow Road 2
Retro Courses
Retro Courses
WII Luigi Circuit
WII Toad's Factory
3DS Cheep-Cheep Lagoon
GCN Mushroom City
Items
more to come.....