Ad blocker interference detected!
Wikia is a free-to-use site that makes money from advertising. We have a modified experience for viewers using ad blockers

Wikia is not accessible if you've made further modifications. Remove the custom ad blocker rule(s) and the page will load as expected.


Made by Bradly1203 (t∣b∣c).
Don't delete this page, Don't use artworks without my permission.
Please do not edit without his permission, unless it is a spelling, grammar or any other minor error.
Please realize that all information on this page is false and that it will almost certainly never happen.
Also, any improvements that could be made are appreciated! ask to the talk page. Please enjoy Mario Kart Wii U 2.
Thanks!
DO NOT EDIT WITHOUT MY PERMISSION PLEASE. Bradly1203 (t∣b∣c)
Unless fixing spelling errors, ask to the talk page.
Mario Kart Wii U 2
Developer(s)
Its only a fan Wii U box art not the real
Publisher(s)
Platform(s)
Release Date(s)
Mode(s)
1 to 4 Players
Age Rating(s)
Gameplay
Mario Kart Wii U 2 is a new Mario Kart game fot the Wii U Console it has many 31 new characters 22 Default, 43 Unlockable and 65 downloadables these are 130 Characters
new Items and each Players has a special item.
10 Cups + 2 extra cups and new Courses you Unlock all you can change from 20 to 24 Racers
Default
20 in the race like 22 characters look and new Characters like Baby DK,Copter Koopa,Tiki Goon and Pom Pom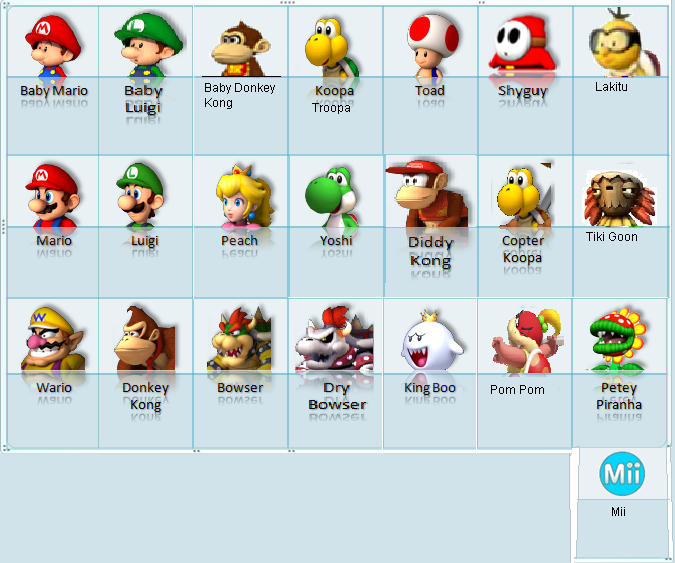 Newcomers:
Unlockable
43 Characters are to Unlock and wen you Unlock all you can change from 20 to 24 Racers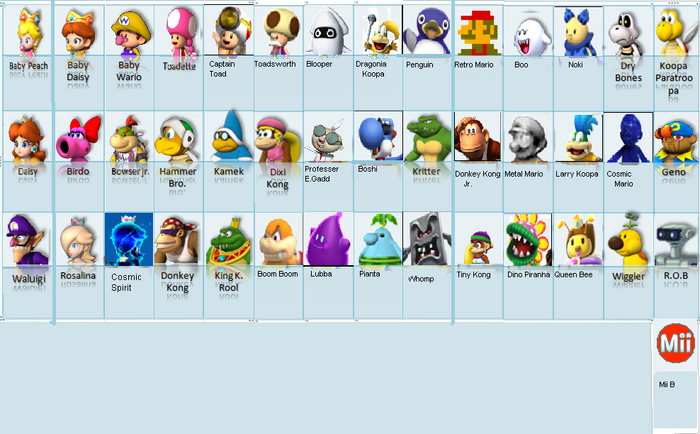 How to Unlock
Daisy: 50ccm win all New Courses
Waluigi: 50ccm win all Retro Courses
Dry Bones: 50ccm win all Rainbow Cups
Bowser Jr.: 100ccm win all New Courses
Baby Peach: 100ccm win all Retro Courses
Baby Daisy: 100ccm win all Rainbow Cups
Rosalina: 150ccm win all New Courses
Funky Kong: 150ccm win all Retro Courses
Wiggler: 150ccm win all Rainbow Cups
Toadette: 200ccm win all New Courses
Birdo: 200ccm win all Retro Courses
Koopa Paratroopa: 200ccm win all Rainbow Cups
Hammer Bro.: Mirror win all New Courses
Professor E. Gadd: Mirror win all Retro Courses
Lubba: Mirror win all Rainbow Cups
Boom Boom: 50ccm 3rd is Better in Mushroom and Flower Cup
Toadsworth: 50ccm 3rd is Better in Shell and Banana Cup
Baby Wario: 100ccm 3rd is Better in Mushroom and Flower Cup
Dixie Kong: 100ccm 3rd is Better in Shell and Banana Cup
Dino Piranha: 150ccm 3rd is Better in Mushroom and Flower Cup
Pianta: 150ccm 3rd is Better in Shell and Banana Cup
Whomp: 200ccm 3rd is Better in Mushroom and Flower Cup
Queen Bee: 200ccm 3rd is Better in Shell and Banana Cup
NES Mario: Mirror 3rd is Better in Mushroom and Flower Cup
Boshi: Mirror 3rd is Better in Shell and Banana Cup
Larry Koopa: Have 1 star rank for all 50ccm Cups
Boo: Have 1 star rank for all 100ccm Cups
Kritter: Have 1 star rank for all 150ccm Cups
Metal Mario: Have 1 star rank for all 200ccm Cups
R.O.B.: Have 1 star rank for all Mirror Cups
Cosmic Spirit: Play all Time Trials in New Courses
Tiny Kong: Play all Time Trials in Retro Courses
Geno: Play all Time Trials in Rainbow Courses
King K. Rool: all the expert staff ghosts in New Courses
Noki: all the expert staff ghosts in Retro Courses
Blooper: all the expert staff ghosts in Rainbow Courses
Dragonia Koopa: Clear Level 4 Missions
Cosmic Mario: Clear Level 7 Missions
Kamek: Win against Kamek in Battle Courses
Captain Toad: win all Missions
Penguin: win against 10 expert ghosts
Donkey Kong Junior: Play 10 Time Trials
Mii Outfit B: Win all cups on Classical against Mii Outfit B
Items
(♦) New Items
♦ Blue Shell : freze the Racers

♦ Triple Blue Shells : freze the Racers

♦ Black Shell : hit Racers long time

♦ Triple Black Shell : hit Racers long time

♦ Double Bob-omb : the same effect as Bob-omb

♦ Torpedo Ted : replace Bullet Bill in Underwater courses

♦ 1-Up Mushroom : you become one extra Point

♦ Mini Mushroom : you are very small and faster

♦ Fire Flower : you can Throw Fire balls

♦ Cheep-Cheep : you can trow it on Racers

♦ Ice Flower : you can trow ice balls and freze Racers

♦ Golden Shell : is very strong

♦ 1. Pipe or Place 1 Pipe : it wrap you to place one

♦ Anti Gravitation Mushroom : it can neutralize the Gravitation for a moment

♦ Luma : you can use two items

♦ Shooting Star : is the rarest Item its 10 times faster then Bullet bill
New Courses
Retro Courses
Rainbow Cups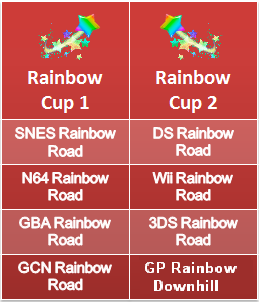 Downloadable Packs
WarioWare Collection
Kong Collection
Galaxy Collection
Koopaling Collection
Hotage Collection
Gallerie
Credits and Copyright
Made by Bradly1203
Don't use artwork without my permission