Mario Kart Wii 2.0
Comments

58
18,014pages on
this wiki



Please do not edit without my permission, unless it is a spelling error, grammar error or any other minor error.
Please realise that all information on this page is false and that it will almost certainly never happen
Any improvements that could be made are appreciated.
Please enjoy Mario Kart Wii 2.0,

<insert name here>
Mario Kart Wii 2.0 is a game for the Nintendo Wii and the sequel to Mario Kart Wii. It will involve new modes, including creating your own tracks and rival challenges. Ghost data will be downloadable and 11 can be raced against at the same time, similar to Mario Kart 7.
DO NOT EDIT WITHOUT MY PERMISSION PLEASE - Baby Yoshi
Only fix spelling errors
If you would like to help me with my game, please ask on my talk page
Mario Kart Wii 2.0
Developer(s)
Publisher(s)
Release date
21st May 2012

Genre
Racing
Mode(s)
Single Player


2 - 4 Player
12 Player Online Play

Rating(s)
Platform(s)
Nintendo Wii
Media
Wii Disc
Features
Retro Features
The coin collecting from Mario Kart 7 returns. You are able to collect as many coins as you can but only the first 10 give extra speed. Tricks from Mario Kart Wii and Mario Kart 7 return. Gliders, Driving Underwater and Kart customization returns from Mario Kart 7. Bikes return from Mario Kart Wii. Ghost Data downloading and versing many ghost data returns from Mario Kart 7. Mission Mode returns from Mario Kart DS.
New Features
The only new feature is the mode of Rival Challenges.
Modes
Single Player

Grand Prix - Race for 1st place in cups of 5 courses
Time Trial - Race alone for the best time
Custom Race - Race against opponents on Custom Created Tracks
VS - Race endlessly on any tracks you like
Battle - Battle against your opponents. you can set a time limit as a new feature

Coin Runners - Collect the coins
Balloon Battle - Pop your opponents balloons

Mission Mode - Play missions to with difficult goals to test your Mario Kart ability

Missions - Play up to 80 different missions on different difficulties
Boss Battles - Defeat as many bosses as you can within the time limit

Stadium - Design your own tracks

Multiplayer - Play with 2 - 4 players

VS - Play against each other on a set number of tracks
Battle - Battle against each other on a set number of battles

Online Play
Selection Screen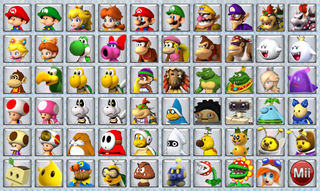 1st Row: Baby Mario, Baby Luigi, Peach, Daisy, Mario, Luigi, Wario, Waluigi, Bowser and Dry Bowser
2nd Row: Baby Peach, Baby Daisy, Yoshi, Birdo, Diddy Kong, Dixie Kong, Donkey Kong, Funky Kong, Boo and King Boo
3rd Row: Baby DK, Squawks, Koopa Troopa, Paratroopa, Tiny Kong, Tiki Goon, Kritter, King K. Rool, Rosalina and Lubba
4th Row: Toad, Toadette, Dry Bones, Parabones, Bowser Jr, Kamek, Gearmo, R.O.B., Pianta and Noki
5th Row: Toadsworth, Toad Brigade Captain, Monty Mole, Shy Guy, Hammer Bro, Blooper, Wiggler, Pokéy, Bee and Queen Bee
6th Row: Whittle, Luma, Geno, Lakitu, Goomba, Octogoomba, Piranha Plant, Petey Piranha, Mona and Mii
Characters
There are fifty characters in the game, split into 5 different weights: Feather, Light, Medium, Cruiser and Heavy
Courses
~ = 1 lap
Nitro Cups
Mushroom Cup
| | | | | | |
| --- | --- | --- | --- | --- | --- |
| Name | Description | Normal Ghost Data | Normal Ghost Time | Expert Ghost Data | Expert Ghost Time |
| Peach Circuit | A simple circuit designed around Peach with Goomba's walking the tracks. | Baby Peach | 1:45:230 | Peach | 1:27:968 |
| Yoshi Forest | A forest inhabited by the Yoshi race. The course starts in a nice forest surrounded by cabins and continues into a large dinosaur-themed castle. | Wiggler | 2:03:823 | Yoshi | 1:53:190 |
| Shroom Desert | A sandy desert with sand flying everywhere and sink-sand holes appearing out of nowhere. The course starts off in the desert and ends up in a village full of Toad's | Toadette | 2:35:821 | Toad | 2:21:392 |
| Tall Trunk Slide~ | A huge tree in the Tall Trunk Galaxy. The course starts at the top of the tree and goes down to the bottom. | Luma | 1:47:278 | Whittle | 1:31:289 |
Flower Cup
| | | | | | |
| --- | --- | --- | --- | --- | --- |
| Name | Description | Normal Ghost Data | Normal Ghost Time | Expert Ghost Data | Expert Ghost Time |
| Piranha Park | A small park infested by Piranha Plants. The course drives around the attractions and down into the nature walk. | Piranha Plant | 1:23:274 | Petey Piranha | 1:09:228 |
| Tiki Pass | A mountain shrouded in plants and trees. The course takes a drive up a steep hill, through a waterfall into a cave infested with Tiki Goon's. | Baby DK | 2:54:280 | Tiki Goon | 2:44:100 |
| Magikoopa Manor | A huge manor owned by Kamek. The course takes a drive through the manor, into the garden, up to the top of the manor and a glide back to the entrance. The manor has many tricks and hidden pathways inside. | Dry Bowser | 3:23:935 | Kamek | 3:01:728 |
| Haunted Museum | A museum infested with Boo's. The course drives through many era's of history; from the dinosaur's to the Egyptians with the artifacts flying around the rooms. | Boo | 2:55:290 | King Boo | 2:30:219 |
Star Cup
| | | | | | |
| --- | --- | --- | --- | --- | --- |
| Name | Description | Normal Ghost Data | Normal Ghost Time | Expert Ghost Data | Expert Ghost Time |
| Honeyhive Kingdom | A course which resides in the Honeyhive Kingdom. The course starts outside at the bottom of the galaxy, it continues up into the honeyhive base, up to the peak and a glide back to the bottom. Mandibug's and Wiggler's appear commonly along the course | Bee | 2:22:189 | Queen Bee | 2:09:493 |
| Ice Desert | A desert frozen by Sorbetti. The course takes you around the desert, into an ice pyramid and down into an ice tunnel. Snowmen and L'il Brr's are hazards on the track. | Squawks | 1:34:991 | Pokéy | 1:19:190 |
| Sky City | A city owned by Wario in the sky. The course takes you through a hustling town filled with Wario themed cars, buildings and life. | Mona | 1:40:190 | Wario | 1:29:920 |
| Star Road | Home of the Star Beings. Star Road is a short course with many sharp corners and twisting paths. it has 4 laps instead of 3. | Octoomba | 1:03:104 | Geno | 0:44:105 |
Special Cup
| | | | | | |
| --- | --- | --- | --- | --- | --- |
| Name | Description | Normal Ghost Data | Normal Ghost Time | Expert Ghost Data | Expert Ghost Time |
| Robot Fairground | A huge fairground made entirely of robotic parts; from the rides to the people to the food. The course goes through manby attractions including the bumper car and fun house. | Gearmo | 2:50:590 | R.O.B. | 2:25:811 |
| Nightmare Realm~ | A realm full of nightmares. The course goes through nightmares of Mario, Peach, Yoshi, Wario, Donkey Kong and Bowser | Blooper | 3:10:321 | Hammer Bro. | 2:49:116 |
| Bowser's Castle | A castle owned by Bowser in one of its many forms. The castle contains many Thwomp's, Podoboo's and Mecha-Koopa's. There are also many moving Bowser Statues. | Bowser Jr | 2:59:198 | Bowser | 2:36:964 |
| Rainbow Road~ | A long, winding path up in the sky. The course changes it appearance every so often, making it difficult for the player to stay on course. | Rosalina | 3:33:333 | Lubba | 3:01:820 |
Retro Cups
Shell Cup
Banana Cup
Leaf Cup
Lightning Cup
Battle Courses
Nitro Courses
| | |
| --- | --- |
| Name | Description |
| Starship Mario | A planet shaped as Mario with small islands around the outside |
| Yoshi Island | A small island with a lake in the middle |
| Bowser Jr Base | A small fortress owned by Bowser Jr |
| Boo Cemetery | A cemetery infested with Boo's |
| Mushroom Village | A small village with many Toad Houses |
Retro Courses
| | |
| --- | --- |
| Name | Description |
| N64 Double Deck | A battle course returning from Mario Kart 64 |
| GBA Battle Course 4 | A battle course returning from Mario Kart: Super Circuit |
| DS Nintendo DS | A battle course returning from Mario Kart DS |
| Wii Thwomp Desert | A battle course returning form Mario Kart Wii |
| 3DS Honeyhive House | A battle course returning from Mario Kart 7 |
Vehicles
Kart Parts
Bike Parts
Wheels
Gliders
Standard~
B Dasher
Boo Zoomer
Standard~
Green Shot
Standard~
Monster
Roller
Spike
Standard~
Unlockable
Baby Roller
Barrel Train
Blue Seven
Bumble V
Cheep Charger
Cloud 9
Concerto
DK Jumbo
Dry Devil
Egg 1
Flame Flyer
Gherkin
Growlster
Heart Coach
Honey Beast~~
Kong Car
Koopa Clown
Koopa Dasher
Magic Motor
Nostalgia 1
R.O.K. 3000
Shroom Coupe
Soda Jet
Sweet Ride~~
Tiny Tug
Whittle Racer
Wiggle Runner
Arrow~
Bloop Bike
Bowser Bike
Bullet
Chomper
Dixie Drive~
Dolphin Dasher
Funky Roller
Koopa Kid
Kremling Crawler
Mach Bike
Monty Mach
Mona Bike~
Nano Bike
Palm Pedal
Pokéster
Quacker
Sand Devil
Shell Runner
Shroom Toy
Sky Shot
Torpedo
Baseball
Boulder
Flower
Flutter Segment
Gold Tires
Luma
Mushroom
Red Monster
Topman
Slick
Slim
Sponge
Wooden
Floating Ghost
Fluzzard Wings
Magic Bolt
Parawings
Piranha Glider
Shroom Paraglider
Tiki Glider
Whittle Leaf
~ = Changes colour depending on the character
~~ = Changes colour depending on the female character
Items
| | | |
| --- | --- | --- |
| Image | Name | Description |
| | Item Box | A common item found on the track. Every character can collect one and it will give you a specific item depending on the position you are in. |
| | Fake Item Box | A common item found in an item box. Put one down and it will spin anyone who runs into it, it can only be used once. It is commonly found between places 1 - 4 |
| | Banana | A common item found in an item box. Put one down and it will spin anyone who runs into it, it can only be used once but it can be used to protect your kart from incoming shells. It is commonly fund between places 1 - 4. |
| | Triple Banana | An uncommon item found in an item box. Put one down and it will spin anyone who runs into it, it can be used three times, it can also be used to protect your kart from incoming shells. It is commonly found between places 3 - 7. |
| | Green Shell | A common item found in an item box. Throw one ahead or behind you and it will spin anyone on impact. It will rebound off surfaces and can be used to protect your kart from incoming shells, it can only be used once. It is commonly found between places 1 - 5. |
| | Triple Green Shell | An uncommon item found in an item box. Throw one ahead or behind you and it will spin anyone on impact. It will rebound off surfaces and can be used to protect your kart from incoming shell, it can be used three times. It is commonly found between places 1 - 5. |
| | Red Shell | A common item found in an item box. Throw one ahead or behind you and it will spin anyone on impact. It will target the nearest player to you in which direction you threw it and can be used to protect your kart from incoming shells, it can only be used once. It is commonly found between places 2 - 7. |
| | Triple Red Shell | An uncommon item found in an item box. Throw one ahead or behind you and it will spin anyone on impact. It will target the nearest player to you in which direction you threw it and can be used to protect your kart from incoming shells, it can be used three times. It is commonly found between places 3 - 8. |
| | Mushroom | An uncommon item found in an item box. Use one to give you a small speed boost. If you run into a player whilst boosting, you can steal their item. It is commonly found between places 4 - 8. |
| | Triple Mushroom | A rare item found in an item box. Use one to give you three small speed boost. If you run into a player whilst boosting, you can steal their item. It is commonly found between places 6 - 9. |
| | Golden Mushroom | A very rare item found in an item box. Use one to give you multiple small speed boost. If you run into a player whilst boosting, you can steal their item. It is commonly found between places 9 - 12. |
| | Spiny Shell | A rare item found in an item box. Throw one and it will directly target the player in first and spin him, it will also hit any players along the way whilst it is heading for 1st place. It is commonly found between places 6 - 10. |
| | Lightning Bolt | A ultra rare item found in an item box. Use this item to shrink all the players ahead of you. It is only found in place 12. |
| | Blooper | A rare item found in an item box. Use this item to gloop out the screens of the characters ahead of you. It is found between places 5 - 10. |
| | Bob-omb | A very rare item found in an item box. Throw this item to create an explosion which will spin anyone in the target area. It is found between places 6 -10. |
| | Fire Flower | A uncommon item found in an item box. Fire mulitple balls of fire ahead or behind to spin other drivers. It is found between places 1 - 6. |
New Items
| | | |
| --- | --- | --- |
| Image | Name | Description |
| | Hammer Flower | An uncommon item found in an item box. Throw this item in any direction to attempt to hit another vehicle, if successful, the vehicle will spin. It is found in between places 3 - 7. |
| | Thunder Flower | A very rare item found in an item box. Fire multiple bolts of electricity ahead or behind to shrink other drivers. It can be found between places 6 - 10. |
| | Ice Shell | A rare item found in an item box. Throw one ahead or behind you and it will freeze anyone on impact. It will rebound off surfaces and can be used to protect your kart from incoming shells. It can be found between places 5 - 9. |
| | Triple Ice Shells | A very rare item found in an item box. Throw one ahead or behind you and it will freeze anyone on impact. It will rebound off surfaces and can be used to protect your kart from incoming shells. It can be found between places 7 - 10. |
Mission Mode
No.
Name
Description
Character
1-1
Mario's Back
Complete 1 lap of Peach Circuit
Mario
1-2
Yoshi Daredevil Drive
Complete 2 laps of Yoshi Forest,
without hitting any Roaming Dinosaurs.
Yoshi
1-3
Sandy Stars
Collect 20 Stars on 'Shroom Desert
Toad
1-4
Trick Jump Slide
Complete 30 Trick Jumps on Tall Trunk Slide
Luigi
1-Boss
Peewee Attacks
Defeat Peewee Piranha on Starship Mario
Choose
| | | | |
| --- | --- | --- | --- |
| No. | Name | Description | Character |
| 2-1 | Circuit Smash | Smash 15 Item Boxes in 1 Lap of 3DS Toad Circuit | Toadette |
| 2-2 | Baby Battle | Beat Baby Luigi at a 10 Lap GCN Baby Park | Baby Mario |
| 2-3 | Dry Dry Duel | Beat Bowser at a 1 Lap duel on Wii Dry Dry Ruins | Dry Bones |
| 2-4 | Troopa Turns | Complete 20 Power Slides on SNES Koopa Troopa Beach 1 | Koopa Troopa |
| 2-Boss | Giga Island | Beat Giga Lakitu on Yoshi Island | Choose |
| | | | |
| --- | --- | --- | --- |
| No. | Name | Description | Character |
| 3-1 | Super Chomps | Travel around Piranha Park dodging the hungry Piranha Plants | Piranha Plant |
| 3-2 | Tiki Trick | Complete 25 Tricks on Tiki Pass | Donkey Kong |
| 3-3 | Magikoopa Mayhem | Dodge the attacks of all the Magikoopa's | Bowser |
| 3-4 | Hauted Hunt | Find all 10 Boo's on Hanuted Museum | King Boo |
| 3-Boss | Hungry Hunter | Defeat Gobblegut on Bowser Jr. Base | Choose |
| | | | |
| --- | --- | --- | --- |
| No. | Name | Description | Character |
| 4-1 | Daisy Dodger | Dodge herds of cows on N64 Moo Moo Farm | Daisy |
| 4-2 | Trick Master | Perform 15 Tricks on DS Wario Stadium in 1 lap | Wario |
| 4-3 | Desert Drive | Complete 3 Laps of GBA Yoshi Desert in the alloted time | Birdo |
| 4-4 | Diddy Danger | Complete 3 Laps of 3DS DK Jungle against 3 Dark Diddy's | Diddy Kong |
| 4-Boss | Boss Boo | Defeat Boolossus on Boo Cemetery | Choose |
| | | | |
| --- | --- | --- | --- |
| No. | Name | Description | Character |
| 5-1 | Cosmic Honey Race | Race against 3 Cosmic Mario's on Honeyhive Kingdom | Mario |
| 5-2 | Parrot Perpetraitor's | Using Green Shells, hit each Cosmic Squawks 3 times on Ice Desert | Squawks |
| 5-3 | The Smashing Sky | Smash 25 Item Boxes on Sky City | Lakitu |
| 5-4 | Star Battle | Collect 60 Coins on Star Road with help from Geno | Luma |
| 5-Boss | Flipswapping Mushrooms | Defeat Glamdozer in Mushroom Village with Flipswap Galaxy additions | Choose |
| | | | |
| --- | --- | --- | --- |
| No. | Name | Description | Character |
| 6-1 | Pushing out the Petals | Beat Daisy on a 5-lap race on 3DS Daisy Hills | Peach |
| 6-2 | Old Shrooms | Collect 60 Coins on N64 Mushroom City in 1 minute | Toadsworth |
| 6-3 | Winged Cosmicans | Knock off all 3 Cosmic ParaTrooap's before time runs out | Paratroopa |
| 6-4 | Jungle Hijinks | Smash all item boxes in 1 lap of N64 DK's Jungle Pathway with help from Diddy. | Dixie Kong |
| 6-Boss | Double Dose | Take out 16 Mario's on N64 Double Deck Balloon Battle | Choose |
| | | | |
| --- | --- | --- | --- |
| No. | Name | Description | Character |
| 7-1 | Robo Cop | Hit all drivers on Robot Fairground | R.O.B. |
| 7-2 | Dream Away | Whilst driving through Nightmare Realm, find the dream | Hammer Bro. |
| 7-3 | Stone-Cold Race | Beat Bowser on 3-laps of Bowser's Castle | Dry Bowser |
| 7-4 | The Long Rainbow | Get to the end of Rainbow Road, dodging all the obstacles | Rosalina |
| 7-Boss | Game on a Game | Beat all 8 pro opponents on DS Nintendo DS | Choose |
| | | | |
| --- | --- | --- | --- |
| No. | Name | Description | Character |
| 8-1 | Here-we-go | Race around 3DS Mario Circuit without hitting any obstacles | Mario |
| 8-2 | Dino Dashers | Complete 1-lap of GCN Dino Dino Jungle in 45 seconds. | Yoshi |
| 8-3 | Sea Smash | Smash all 100 Item Boxes within 1m 30s on DS Cheep Cheep Cape | Blooper |
| 8-4 | Snow Storm | Complete 1-lap of Wii DK's Snowboard Cross in a blizzard | Tiny Kong |
| 8-Boss | The Final Stand | Beat Bowser on Coin Runners on Thwomp Desert | Bowser Jr. |
Rival Challenges
TBA
Trivia
On 31 March 2012, Mario Kart Wii 2.0 was updated and changed