Ad blocker interference detected!
Wikia is a free-to-use site that makes money from advertising. We have a modified experience for viewers using ad blockers

Wikia is not accessible if you've made further modifications. Remove the custom ad blocker rule(s) and the page will load as expected.
Mario Kart PiiWii
Developer(s)
Leading Games
Publisher(s)
(in fanon of course)
Platform(s)
Nintendo PiiWii
Genre(s)
Racing
Release Date(s)
TBA
Mode(s)
(ESRB)E
(PEGI)7+
(CERO)A
(OFLC)G
Age Rating(s)
E
Media Included
PiiWii Disc
Mario Kart PiiWii is a Mario Kart game for the PiiWii. The game was in development by Tigerfang Productions before being completely redone by Leading Games. The game features many characters and courses from the Mario universe. The game will also, like Mario Kart: Double Dash!!, have two people in the kart at once.
Controls
The game can be played with a PiiWii Remote or a GameCube Controller.
(TILT)/CONTROL STICK - Turn your vehicle
2/A - Hold to accelerate
1/B - Press to brake/hold to reverse/hold and turn to drift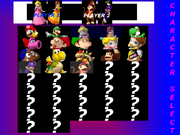 +/START - Pause the game
- - See the rankings
A, D-PAD LEFT, D-PAD RIGHT/X, Y - Use item(s)
D-PAD UP/Z - Switch driver
D-PAD DOWN/X - Hold to hold your item behind your kart
Characters
There are many characters from games that are well known, and not well known. Each character has a partner, but you can choose to play with another partner (for example: if I choose Mario, I can play as Luigi too, or I can choose someone else). All the characters have a special kart and special item. The characters are listed below in a simple table.
Image

Name

Partner

Weight Class

Kart

Special Item

Mario & Starlow
Luigi
Medium
Fludder
F.L.U.D.D.
Luigi
Mario & Starlow
Medium
Poltergust Rider
(Unlockable)
Poltergust 3000
Princess Peach
Princess Daisy
Medium
Peachy Princess
Perry
Princess Daisy
Princess Peach
Medium
Flower Power
(Unlockable)
Party Cube
Yoshi
Birdo
Medium
Tamago Rider
Yoshi Egg
Birdo
Yoshi
Medium
Pink Egg
(Unlockable)
Birdo Egg
Baby Mario
Baby Peach
Small
Yoshi Rider
Chain Chomp
Baby Luigi
Baby Daisy
Small
Shroob Slider
(Unlockable)
Super Milkies!
Baby Peach
Baby Mario
Small
Pinky Power
Heart
Baby Daisy
Baby Luigi
Small
Golden Flower
(Unlockable)
Daisy
Goombario
Kooper
Small
Tattler
Catch Card
Kooper
Goombario
Small
Shell Shocker
(Unlockable)
Boomerang Shell
Bowser
Bowser Jr.
Large
Bullet Blaster
Hammers
Donkey Kong
Diddy Kong
Large
Barrel Speeder
Banana Bunch
Wario
Waluigi
Large
Garlic Car
Garlic

*


WarioWare Bomb
Waluigi
Wario
Large
Oiled Bomb Car
(Unlockable)
Motor Oil
Bowser Jr.
Bowser
Medium
Torpedo Tumbler
(Unlockable)
Torpedo Ted
Diddy Kong
Donkey Kong
Medium
Banana Bunch
(Unlockable)
Rocketbarrel
Courses
NITRO CUPS

MUSHROOM CUP
MUSHROOM CUP
FLOWER CUP
FLOWER CUP
MUSHROOM CUP RACE 1/4
MUSHROOM CUP RACE 3/4
FLOWER CUP RACE 1/4
FLOWER CUP RACE 3/4


Luigi's Circuit is the easiest course in the entire game. It is short, simple and sweetly spooky.
3 LAPS


Cake Land is a tasty and easy course. It is longer then many courses, but has simple hazards. There are some challenging parts, but it's easy enough.
3 LAPS


Mario Circuit (called Mario Park in PAL regions) is a course that belongs to Mario. It is actually really challenging. It has many elements from many of Mario's past adventures.
3 LAPS




Desert Temple is a course that is based on the far away kingdom of Sarasaland, a land ruled by Princess Daisy. It is very hazardous, as there are many enemies that appear on the course.
3 LAPS

MUSHROOM CUP RACE 2/4
MUSHROOM CUP RACE 4/4
FLOWER CUP 2/4
FLOWER CUP 4/4


Wario Factory is a more challenging course. Challenging enough to be in the Flower Cup actually. It has many hazards, like Oil Spills and Sparkies.
2 LAPS


Monty Mole Mines is the final course in Mushroom Cup. It is pretty much a tutorial level to the Flower Cup. It is moderately hard, with some tricky parts.
3 LAPS




Mushroom Mansion is a giant mansion. It belongs to a rich (albeit unseen) Toad. It is huge, and has many shortcuts. It also is really long.
2 LAPS




Forest Maze is a famous maze that appears in the Mushroom Kingdom. It is hard, and is confusing, as you do not know what place you are in, until you are done.
3 LAPS
RETRO CUPS

SHELL CUP
SHELL CUP
BANANA CUP
BANANA CUP
SHELL CUP RACE 1/4
SHELL CUP RACE 3/4
BANANA CUP RACE 1/4
BANANA CUP RACE 3/4



Kalimari Desert, the famous desert returns from Mario Kart 64! It still features the train, and now has updated billboards. You can still ride along the train tracks.
3 LAPS




Mario Circuit 2, the course with one of the most confusing layouts in Super Mario Kart. It has all the same extras, but with updated graphics.
3 LAPS




Sunset Wilds, the course for the desert Shy Guys. Many Shy Guys will jump on your kart and steal your item and slow your kart down.
3 LAPS




Sherbet Land, the course with the giant skating shy guys appears back again from Mario Kart: Double Dash!!.
3 LAPS

SHELL CUP RACE 2/4
SHELL CUP RACE 4/4
BANANA CUP 2/4
BANANA CUP 4/4



Tick Tock Clock, the infamous clock from Super Mario 64, appears as a racecourse from the game Mario Kart DS.
3 LAPS




Wario's Gold Mine, the twisty-flippy topsy-turny gold mine belonging to Wario is back and better than ever!
3 LAPS




Bowser's Castle, the returning one from Mario Kart Double Dash!!, has many tricks and obstacles.
3 LAPS




DK Pass, the course similar to DK Mountain and DK Snowboard Cross, returns to the scene with WAY better textures!
3 LAPS
Items
Items
Bullet Bill
Red Shell
Green Shell
Blue Spiny Shell
Fake Item Box
Banana Peel
Triple Banana Peels
Giant Banana Peel
Mushroom
Triple Mushrooms
Star
Thunderbolt
Thundercloud
Golden Mushroom
POW Block
Mega Mushroom
Dash Pepper
Rock Mushroom
Freezie
Bowser's Shell
Battle Mode
Battle Mode is a Multiplayer and Singleplayer mode. In Multiplayer, Battle Mode consists of all the players in the game, on a 6 vs. 6 game. There are usually 4 players, and 8 computer-players. Sometimes the computer-players are R.O.B. or Shy Guys. Below is a list of modes that are in the main Battle mode.
Balloon Battle - Hit the opponent players with items to reduce their balloons. Every racer gets 3 balloons, and can steal other people's balloons using speed-related items (like Mushrooms). The winning team is the team with the least amount of people eliminated. You are eliminated when you have zero balloons. You can also lose points if you fall of a cliff.
Shine Sprint - Take the Shine Sprite and keep in your possession to get points. Be the team to have the most points to win.
Bob-Omb Blast! - The only item that you are able to get from Item Boxes are Bob-Ombs. You get points depending on how many times you hit a person. You lose points if you get hit. The first team to 15 points wins.
Coin Battle - Collect coins for points. Once you get hit with an item, you lose half of your coins. The team with the most coins wins.
Karts
You can only use the default karts in Battle Mode. As unlockable karts are usually more faster.
Stages
Battle Arenas
Doughnut Plains
Dry Dry Ruins
World 1
Peach's Castle
SNES - Battle Course 1
NDS - Tart Top
N64 - Double Deck
GBA - Battle Course 2
Unlockable Content
See Mario Kart PiiWii/Unlockable Content
All of the content on this page is the default (automatically unlocked) content. Above is the unlockable content for the game. It also tells how to unlock the stuff.
Music
DISCLAIMER:
I did not make any of these remixes and fan-made music. All credit goes to Nintendo (for the original) and the remixers/creators of the music.
Music Credits