Ad blocker interference detected!
Wikia is a free-to-use site that makes money from advertising. We have a modified experience for viewers using ad blockers

Wikia is not accessible if you've made further modifications. Remove the custom ad blocker rule(s) and the page will load as expected.
Mario Bros: Blast to the past is a upcoming game by Fantendo and is a 
a remake of Mario Bros. The game was shown at E3 and with great
reviews. Fantendo released a demo for people to play before the real game
comes.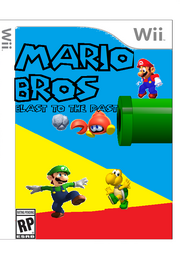 Gameplay
Unlike the old Game , it has replacements, Huckit Crabs replace Sidestepers. The only to defeat them was by bumping the platform. Koopas replace Shellcreepers but unlike the Huckit Crab, they can be jumped on and kicked.
Characters
Playable
Enemies
Like Duck_Hunt every level title has numbers. Like if level 1: There will be one. Like the same game, if they are defeated they go to the next level.
Triva
This is the first game to feature Classic Mario without a power up.
Some glitches are fixed.