Ad blocker interference detected!
Wikia is a free-to-use site that makes money from advertising. We have a modified experience for viewers using ad blockers

Wikia is not accessible if you've made further modifications. Remove the custom ad blocker rule(s) and the page will load as expected.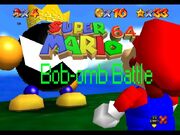 Mario 64: Bob-omb Battle (often abbreviated as M64BB) is a game where you play as the famous mascot Mario and take on King Bob-omb once more, as you did in Super Mario 64
Platforms
The game was released for N64 originally, but is now on the Wii and Wii U Virtual Console. It will be arriving on the 3DS/2DS VC soon.
Ratings + Sales
The game did not sell well, as many reviews claimed the game to be pretty difficult.
"5.3/10"
~GameNet Unlimited
"I played for 3 hours straight- AND STILL haven't beaten the third boss"
~Marcus Veskoly
The game sold approximately only 550,000-1.3 Million copies.