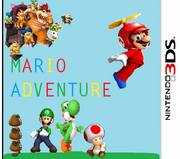 It is notable for having
Boom Boom
,
Pom Pom
.
Gameplay
This game plays similar to Super Mario 3D Land. It has the Koopalings, Bowser Jr, and many possibly forgotten Mario characters.
Mid-Bosses
Funky Forest-Wiggler
Deserted Ruins-Whomp
Realem of Water-King Cheep Cheep
Mushroom Cave-Mouser
Burnin' Plains-FryGuy
Sunset Mountain-HawkMouth
Bosses
Funky Forest-Boom Boom
Deserted Ruins- Pom Pom
Realem of Water-Bam Bam
Mushroom Cave-Tryclyde
Burnin' Plains-Iggy
Sunset Mountain-Boom Boom
Sunset Mountain-2-Bam Bam
Ad blocker interference detected!
Wikia is a free-to-use site that makes money from advertising. We have a modified experience for viewers using ad blockers

Wikia is not accessible if you've made further modifications. Remove the custom ad blocker rule(s) and the page will load as expected.