Ad blocker interference detected!
Wikia is a free-to-use site that makes money from advertising. We have a modified experience for viewers using ad blockers

Wikia is not accessible if you've made further modifications. Remove the custom ad blocker rule(s) and the page will load as expected.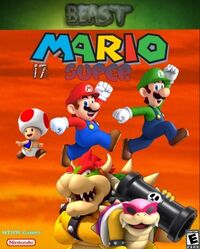 Super Mario 17 is a mario game for the game systems beast, Wii U, and Ds, coming july 2 2018..
The Story of the game starts out that toad and his crew find a ton of treasure on a mysterious dark planet.. They start collecting the treasure but The Dark Worm Drimp Got angry at toad and his crew for trying to steal his gold.. so he uses his power to scan what planet they are from to attack the planet and steal all its treasure.. So toad and his crew escape and go back to Mushroom City to warn mario.. Once they warned mario they looked back and saw that princess peach was gone.. They thought bowser took the princess but it actually was the dark worm Drimp.. Mario must go through 6 worlds to rescue the princess and save the world..
Characters
Players
The game has a multiplayer mode (2 players only)
Enemies
Bosses
There are 17 bosses, hence the name of the game.
Worlds
Chapter 1 worlds
Chapter 2 Worlds
Chapter 2 Bosses

Chapter 2 Only Powerups
Enemies only seen in Chapter 2 levels
Non Playable characters
Powerups
Gallery