Moveset
New Moves Neutral Special: Fireball - Deals 6% damage, can be bounced off walls. 
Side Special: Tanooki Tail - Deals 8% damage, reflects projectiles onto the opposite side. 
Down Special: Hammer Bonk - Can be charged. Deals 9% damage when not charged, and 14% damage when fully charged. Can also get opponents stuck on the ground.
F-Smash: Firebrand - Deals 38% damage when charged fully.
Final Smashes
Final Smash: Mario Finale 
Side Final Smash: Super Cape Twister
Down Final Smash: F.L.U.D.D Tsunami
Up Final Smash: Flurry Jump Punch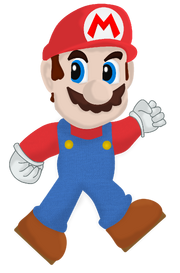 Skin Swaps
Mario has a five alternate costumes, shared with five alternate costumes for his alternate character,     Dr. Mario. 
| Mario Costumes | Dr. Mario Costumes |
| --- | --- |
| | |
| | |
| | |
| | |
| | |
Ad blocker interference detected!
Wikia is a free-to-use site that makes money from advertising. We have a modified experience for viewers using ad blockers

Wikia is not accessible if you've made further modifications. Remove the custom ad blocker rule(s) and the page will load as expected.