Mario
is a fighter in
Super Smash Bros. One
. He has been playable in every installment of the series thus far and reprises his role in this game.
Moveset
Main set
Move
Name
Description

Neutral B


Fireball

Shoot fireballs from your palms.

Side B
+ /

Cape

Deflect projectiles and turn players around.

Up B
+

Super Jump Punch

Jump up to hit opponents multiple times.

Down B
+

F.L.U.D.D.

Shoot water to send opponents back.

Final Smash
+

Mario Finale

Unleash a powerful blast of fire to hit your foes.
amiibo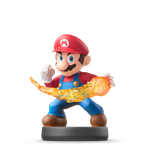 Mario™ never hesitates to leap into action when there's trouble in the Mushroom Kingdom. Known for saving the world (and Princess Peach™) countless times from Bowser™, Mario is a true super star. He's got amazing jumping skills and makes use of a wide range of transformations. Mario has also powered up into countless roles: referee, doctor, sportsman, dancer, kart racer, and many more.
Ad blocker interference detected!
Wikia is a free-to-use site that makes money from advertising. We have a modified experience for viewers using ad blockers

Wikia is not accessible if you've made further modifications. Remove the custom ad blocker rule(s) and the page will load as expected.