Mario & Sonic: Parallel Dimensions

The American Boxart of this game for Wii U

Developer(s)
Publisher(s)

Platform(s)
Wii U
Release Date(s)
Winter 2013
Mode(s)
Single Player, Multiplayer
Age Rating(s)
E +10, PEGI 7, CERO B
Genre(s)
Action, Platform
Series
Mario & Sonic Series
Media Included
Wii Disk

3DS Catridge
Mario & Sonic: Parallel Dimensions
(in japan:  
マリオ&ソニック悪い未来冒険
that says:
Mario & Sonic Bad Future Adventure
) is an upcoming 2.5D/3D game for
Wii U
 and
Nintendo 3DS
 to be released to this Winter 2013 made by
Nintendo
 and
Sega
and developed by
GreenStar Studios
. This game involves Mario and Sonic together to an futuristic adventure in time, not in a olympic game as always. There's a E3 demo and a video trailer available in Nintendo eShop in Wii U and Nintendo 3DS. 
Plot
There are 4 stories on each team:
Heroes Team
One day in Mushroom Kingdom...Mario and Luigi were walking on the path through Peach's Castle. Sudden they saw an airship from Bowser the sky. Mario and Luigi are dashing to the castle. After that, Peach is grabbed by Bowser's hand and Peach screwing all the time saying Mario. Well, Luigi was being ignored, hehe.... So anyway, Mario jumps to Bowser's head but it sudden it appears somethings strange and lightnings there. It was a darkful portal. Mario, Luigi, Peach and Bowser were shocked. Sudden, the portal with a high-speed velocity, he inhaled Princess Peach into the portal. Mario, Luigi and Bowser were to be shocked. They tried to pull the princess but it's failed. The portal grabbed Bowser into him and then he's gone. Mario and Luigi are exhausted so they can pull up the princess now. Oh no... Princess Peach is inhaled by a mysterious and a evil, dark portal. Mario was disappointed to himself but Luigi says bravery words to his courageous brother that he save the princess a million times in 35 years. So Mario and Luigi goes into the portal and then... the adventure is not begun yet! Look...
One day in Mobius, Sonic was finding the Chaos Emeralds around Green Hill Zone with Tails. They founded now all of them! Cool! But sudden, somethings bad coming. Dr. Eggman and Metal Sonic interrupted them by asking to give the Chaos Emeralds. Tails says not. So, Eggman, prepares his ultimate (yeah whatever...) weapon: The Egg Spiker! Sonic says that name is boring. Eggman was mad so they're prepared to battle against him two. But sudden, there was a strange thing again that it happened in Mushroom Kingdom. The portal!!! Sonic and the other were shocked!  No matter what, the portal inhaled the seven Chaos Emeralds! Sonic was prepared to catch these emeralds but it was to late. Sonic was to late from catch these emeralds. Eggman and Metal Sonic were inhaled by the portal like Princess Peach. Sonic and Tails had no choice so they decide to go into the portal so, ..., for now, the adventure begins not yet! Wait a minute...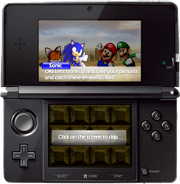 Mario and Luigi woke up after all that inhaled situation. The place is so dark and familiar to Mario and Luigi. It's looks like the first adventure to go to rescue Peach in SMB. But further through the path, Luigi saw Sonic and Tails lied on the ground. Sonic and Tails, slowly, woke up and then they shaken about Mario and Luigi. They asked: Who are you two? Mario and Luigi were trying to invent a little slogan introduction like: "THE SUPAH MARIO BROTHERS! YAHOO, OH YEAH!" Sonic loved the slogan and then they meet them selves like: "I'm Sonic, Sonic the Hedgehog". And: "And I'm Tails! Nice to meet you, guys!" Mario and Luigi are surprised and pleasured with these animals and now they're about to discussing about the place. For Mario and Luigi, it looks familiar but for Sonic and Tails not obviously. So they formed a team named: The Heroes Team to rescue Princess Peach while finding the Chaos Emeralds in this familiar, dark, creepy place. So, now, for real, the adventure begins now! 
Peace Team
One day in Yoshi Island, the sun was shining and it was a beautiful day to go walking around and picnicking before the sunset. Yoshi, the lovely dinosaur, wanted to invite Mario, Luigi and Princess Peach to join him. After that, they did not come. Strange isn't it? That portal inhaled the Mario Bros. and Princess Peach before Yoshi wanted to invites them. So Yoshi just wanted to invite Toad, the fungus guy. After that invitation, Toad came in Yoshi Island with his friends Blue Toad, Green Toad and Yellow Toad. They met Yoshi and they go walking through the woods. After 10 miles/km further, that evil portal appears so sudden by interrupting Yoshi's walkthrough! They inhaled the Toads but Yoshi catches Toad with his tongue. Toad said Yoshi must release himself. Yoshi was scared but he must release to save the Toads. So they jump into that dark portal.  
In the future of Mobius, there was Silver the Hedgehog with her partner Blaze the Cat. They are saving the future by defeating monsters and rebuild the world with his telekenisis power but this was insufficient. Sudden, that evil portal appeared to inhale someone. That someone was Blaze. So she was inhaled by the portal but Silver stopped her with his telekenisis powers but the portal can do that too. He used his powers to beat Silver and inhale Blaze. It' worked. Blaze was inhaled and Silver wanted to save her but he doesn't give up! So he jump into the dark portal to save Blaze.
In Palmtree Panic, Amy was walking with Cream to search Sonic there but he wasn't everywhere. She was sad but she doesn't give up. Sudden, behind the bushes and that tree, it appears a voice like: Amy..... Amy...... Amy...... . Amy was like she heard something strange. It looked like Sonic's voice but Cream said it was strange that Sonic looks so mysterious but Amy dashes through the bushes to find Sonic voice. She founded but it wasn't Sonic, it was that dark portal again. Amy, scared, was prepared to use her Piko Piko Hammer but lately, Cream was inhaled by that portal and Amy wanted to rescue her so Amy jumps into the portal to save Cream and possibly find Sonic. 
In that dark place, it looked so familiar to Silver. It looked like Soleanna but in dark and abandoned but then he saw Amy lied on the ground. Silver goes to her to see if she's OK. Amy woke up and saw Silver. She gave a hug to him because she was scared. Silver and Amy team up and goes to another area of Soleanna. That area was Yoshi and Toad lied on the ground. Silver founded that dinosaur and that mushroom guy. Amy said they are weird but Silver goes to them to see if they are OK. Toad woke up and shocked he was scared and asked who are these two. They met and Toad wanted to wake Yoshi up. Yoshi woke up and he was hungry after that long fall but sudden he saw Silver and Amy and he's shocked. Toad explained to Yoshi what's going on and then they decide to team up with Silver and Amy. The four heroes goes to save her friends.
Wild Team
In a shiny island, Donkey Kong and Diddy Kong were to eat bananas in the forest but sudden, Nabbit, the purple rabbit, stole all the bananas from DK and Diddy Kong so Nabbit tried to run hard to escape easily. DK threw Diddy Kong to catch Nabbit up but there's something that stopped Nabbit's escape. Nabbit, shocked, tried to stop running a cause of that evil portal. Diddy Kong was inhaled by that portal because DK threw, accidentally, to catch Nabbit. Nabbit escaped by an another way to save himself. DK not. He jumped into that portal to save Diddy Kong and the bananas that were inhaled too. By the way, Nabbit was worried about what he have done because he also was in adventure with Luigi. Nabbit goes into that dimensional portal to see what's going on and help DK, if he accepts for sure.
In Angel Island, Knuckles, the Echidna, is keeping the Master Emerald in guard. Mostly comes Rouge, the Bat, here to steal that emerald. Sudden, Knuckles heard someone hidden in the bushes. Knuckles said that who was there. It wasn't Rouge but it was Vector the Crocodile with Espio the Chameleon and Charmy Bee, but he was late.  He does a little research about Angel Island, for money of course, what else?... Knuckles said to be careful because Rouge can come in a moment. Vector accepted the advertisement and continued the research. Espio sensed something and told to Vector what was that. Vector said to him that there's nothing to worry about that because Knuckles can handle that. By the way, Charmy, shocked, asked needfully help, because was a evil dimensional portal to inhale Charmy. Knuckles and Espio tried to save Charmy but it was to late. The Master Emerald was inhaled too. Knuckles was shocked and decided to go into that portal. Of course, Vector joined Knuckles too.
In that dark dimensional world, Angel Island wasn't in the sky but on the sea because there was a Dark Master Emerald ruled by that evil portal ruler too and Donkey Kong Island was a little dark. DK and Nabbit were lied on the ground and then, they stood up. DK was angry to Nabbit but that thief apologized him and gave him a banana to be happy. DK was a little honest to Nabbit in that moment so they decided to team up each other and go rescue Diddy Kong and catch the inhaled bananas by that evil portal. By the way, DK and Nabbit looked to Vector and Knuckles lied on the ground, so they decided to wake up. Knuckles was OK but Vector was conscious. Knuckles thanked honestly to DK and Nabbit and then he asked who's them. After all that acquaintance, Vector was awoke, stood up and then asked to Knuckles who was these two. Knuckles decided to make the acquaintances later. So, they team up together again and then the dimensional adventure has begun.
Anti Team
In Wario's World,Wario was in his trone making nothing. Sudden comes Waluigi to say Wario that they founded something in the woods. It was a Chaos Emerald in a bush. Wario was surprised and Waluigi too. The longer brother with long legs asked Wario which money can he give if he founds somethings "rich". "Nothing..." said Wario. Waluigi was upset and then they go to her mansion back. Suddenly, a black portal was appeared and then he inhaled the Chaos Emerald. Wario and Waluigi were shocked and they jumped into the portal to get the emerald back. Wario was the first who jumped in. Waluigi was the last because he was scary and clumsy but he followed is "brother" just for that "rich" thing.
In a city whole with destruction from the robots of Eggman Nega, Shadow, Rouge and E-123 Omega were fighting against the robots to rescue the city. It was tough so Shadow had a Chaos Emerald to make the time stop and destroy the robots. But before he did, there was a black portal in the sky. He inhaled all the robots including Eggman Nega and the Chaos Emerald. Shadow was furious so he decided to go to that portal with Rouge. Omega stays in the city to stay in guard if there's no danger.
After that, Wario and Waluigi were lied on the ground then they waked up for a moment. "Where are we?" says Waluigi and then he smells somethings "ewww" not pleasant. It was a fart of Wario. Waluigi knows his brother's farts... By the way, they founded two animal people. They were Shadow and Rouge searching the Chaos Emeralds with a radar. The bros. comes closer to them and then they asked what's this place, but with a little rude accent. Rouge doesn't know and she said that that question that Wario asked was inappropriate. Wario was angry against that batgirl. Rouge a little bit. Waluigi gave to the hedgehog carefully the Chaos Emerald because he saw it in his radar. Shadow, with a sad voice, thanked him and then the two go further to search other Chaos Emeralds. Wario decided to join them (badly because he wanted the Chaos Emeralds to be "rich"). And they the adventure goes further!
Gameplay
TBA
Characters
Playable Characters
The characters haves a team name and his own story.
Heroes Story
Image:
Name:
Description:
Stats:
Abilities:
Signature Move:

Mario
"Mario is back to be adventured to an another adventure back to his "futuristic" past with his believed brother Luigi and joins Sonic and Tails to an hyper-speed adventure!"

Balanced

Speed: 3/5
Acceleration: 2/5
Jump: 4/5
Skills: 3/5
Power: 3/5

Mario can use his hammer, his punches and kicks. He also can make wall jumps, transforms into something when he grabs a power-up and uses his F.L.U.D.D in some areas. 
Hammer Dash! (similar to vs. Donkey Kong Mario vs. Donkey Kong)

Luigi
"Luigi never want to abandon Mario to his adventures so he decides to join him with Sonic and Tails. Luigi feels more friendly with Tails."

Balanced

Speed: 3/5
Acceleration: 3/5
Jump: 5/5
Skills: 3/5
Power: 2/5

Luigi can jump higher than Mario and falls slower but he's the weakest than Mario. He can do punches and kicking like Mario but his fighting skills are weak. He can do wall jumps too and uses his hammer too.
Poltergust Action!

Sonic
"Sonic is the fastest thing than the wind and the light. He's called the blue blur because he likes running, saving people and kick Eggman's butt so he decides to join Mario and Luigi with his sidekick Tails to an big adventure."

Speed

Speed:

6/5

Acceleration: 4/5
Jump: 3/5
Skills: 3/5
Power: 2/5

He's the fastest in this team. Sonic can use his spin dash in 2D areas and doing wall jumps like Mario (but much faster). Sonic can use his Homing Attack too to attack enemies.

Sonic Boom!


Tails
"Sonic's best sidekick want join again to save Mobius and find the Chaos Emeralds with Mario and Luigi. Tails is the most approched partner with Luigi."

Fly

Speed: 3/5
Acceleration: 3/5
Jump: 4/5
Skills: 5/5
Power: 1/5

Tails can fly 20 seconds and throw explosive Rings to destroy his enemies.
Tails Cyclone Action!
Peace Story
Image:
Name:
Description:
Stats:
Abilities:
Signature Move:
Yoshi
"Our lovely, peaceful dinosaur is ready to survive the adventure with Toad. He met Silver and Amy to help each other in the adventure."

Speed

Speed: 4/5
Acceleration: 5/5
Jump: 3/5
Skills: 3/5
Power: 2/5

Yoshi can use his tongue to eat enemies and make eggs to throw to his enemies. He can jump higher with his flutter ability to reach higher places. His egg roll is useful too.

Yoshi's Herd Rumble!

Silver
"Silver is saving Mobius and his future with Blaze but she isn't anymore due to that evil portal so he decides to join Yoshi and Toad with Amy to a big adventure." 

Skill Typed

Speed: 2/5
Acceleration: 3/5
Jump: 4/5
Skills: 5/5
Power: 3/5

Silver uses his telekenisis powers to make all thing move themselves and destroy robots. He can use his power to reach further places.
Psychic Control!

Toad
"Peach's servant is ready to save the other servants with Yoshi, Silver and Amy. He's kind of a mushroom and he's maybe small but he's sure fast and handy to find secret places!"

Speed

Speed: 5/5
Acceleration: 4/5
Jump: 2/5
Skills: 3/5
Power: 1/5

Toad is the fastest character in this team. He has a lack on jumping and he's the weakest character too. Toad can find items easily and destroy enemies with his mushroom power.

Amy
"She wanted to find Sonic with Cream but she was inhaled by that portal accidentally so she decides to join the team to save Cream and find Sonic. She's an expert on using hammers like Mario and Luigi."

Balanced

Speed: 3/5
Acceleration: 3/5
Jump: 3/5
Skills: 3/5
Power: 2/5

Amy can use her Piko Piko Hammer to destroy enemies and spin with that hammer to reach further places.
Growing Piko Hammer!
Wild Story
Image:
Name:
Description:
Stats:
Abilities:
Signature Move:

Donkey Kong
"This powered monkey haves good hands to climb, grab vines and help the team to rescue his best sidekick and catch the bananas inhaled by that evil portal."

Power

Speed: 1/5
Acceleration: 2/5
Jump: 2/5
Skills: 3/5
Power: 5/5

Donkey Kong can make an earthquake on the ground and throw barrels. He can go on vines too and making a Barrel Roll too.
DK Konga!

Knuckles
"The guardian of Angel Island is angry a cause of that evil portal, because he stole the Master Emerald. Now, it's his turn to catch that Master Emerald and defeat the ruler of the Dimensional World." 

Power

Speed: 3/5
Acceleration: 2/5
Jump: 3/5
Skills: 4/5
Power: 4/5

Knuckles can punch and flies like Rouge. When he punches all the time, he does a Combo of Punches. These punches gets stronger and stronger.
Earthquake!
Nabbit
"That thief is quite energetic and very sly. But now, he decides to help DK and his team and improve his error, to make his team happy."

Speed

Speed: 5/5
Acceleration: 3/5
Jump: 4/5
Skills: 2/5
Power: 1/5

Nabbit can run fast and jumps higher too. He haves a radar, founded a little further in Angel Island, to find items and keys. He can defeat enemies by punching with his bag. 
Vector
"This enslaved crocodile (enslaved for money and music) must find his friends, Espio and Charmy, his assistants of the Detective Office (?). His music rythmes makes him totally "grooving" as I said."

Power

Speed: 2/5
Acceleration: 1/5
Jump: 2/5
Skills: 3/5
Power: 5/5

Vector can find secret exits and rare things, due to his radar. He can punch enemies and slam them down too. In further areas, Vector can make a bubblegum to reach there.
Karaoke Junction!
Anti Story
Image:
Name:
Description:
Stats:
Abilities:
Signature Move:

Wario
"The fat, ugly guy (enslaved of money) goes searching "crystals" with Waluigi, Shadow and Rouge. I hope he haven't a plan to trick them..."

Power




Speed: 2/5
Acceleration: 2/5
Jump: 3/5
Skills: 2/5
Power: 4/5

Wario's jump are low but he haves a good power to defeat enemies. He can dash to go faster and doing a triple jump. He also can find bonus (coins and rings) in some secret areas.
Mighty Super Wario!

Shadow
"Sonic beloved rival-friend has lost the Chaos Emerald while fighting so he goes to search them with Wario, Waluigi and Rouge, his best partner. Keep calm, Shadow..."

Speed




Speed: 5/5
Acceleration: 5/5
Jump: 3/5
Skills: 3/5
Power: 2/5

Shadow is fast as Sonic and his moves are such as him. He can make Chaos Blast (lightning attack).
Chaos Control!

Waluigi
"Waluigi is much chiller then Wario, must I say. He keeps calm with the situation of the others but not from himself including heroes and happy things."

Skill Typed




Speed: 3/5
Acceleration: 2/5
Jump: 5/5
Skills: 4/5
Power: 1/5

Waluigi jumps higher in this team. He's very agile. He can make a high triple jump too. Waluigi can even make a Waluigi Twist! He spins for a time limit to go faster and attack enemies.
Tennis Smash!

Rouge
"That hot batgirl (but sometimes a little sly) helps Shadow to find the Chaos Emeralds together with Wario and Waluigi. It will not be a big problem because she's an expert of treasure hunter."

Fly




Speed: 3/5
Acceleration: 2/5
Jump: 4/5
Skills: 5/5
Power: 2/5

Rouge can fly and hang walls like Knuckles. She can throw fake rings to defeat enemies and make a Twist Attack to go faster. Go up is even possible.
Heart Bombarge!
Supporting Characters
Image:
Name:
Description:
Playable? + Abilities + Stats:
Saved by team:

Princess Peach

Story Descrpition:

"The damsel-distressed princess was first kidnapped by Bowser but now by that evil portal, for the first time, to make her a princess of darkness. Now Mario and Luigi, with Sonic and Tails, they must save her rapidly."

She's an unlockable playable character in Free Mode but not in Story Mode.

Heroes Team
Peach can float in midair due to her dress and slam enemies with Perry, the umbrella.

Playable Description:

"She's playable like in SMB2. Now she can join Mario to a 'lovely' adventure!"

Speed: 2/5
Acceleration: 2/5
Jump: 3/5
Skills: 5/5
Power: 1/5

Signature Move: Lovely Dance!

Bowser
"Bowser was to kidnap Princess Peach but that portal inhaled Bowser and his airship, with Bowser Jr.. For the first time when he was founded, he serves the Master of the Parallelic World as a guardian of the Black Door."

Bowser isn't playable but he can be a help when the enemies are hard. He can punch and breath fire.

Heroes Team

Bowser Jr.

Story Description:

"Bowser Jr; was inhaled by that portal to make him as a spy to protect the Parallelic World. He create machines too."

Bowser Jr. is an unlockable playable character only in Free Mode.

Heroes Team
He uses his Paint Brush to attack enemies and find secret areas by painting on the walls or grounds. He uses his shell too to protect himself.

Playable Description:

"Bowser Jr. is very active and agile to escape enemies. He's a bad one, but you must try it!"

Speed: 4/5
Acceleration: 3/5
Jump: 3/5
Skills: 2/5
Power: 3/5

Signature Move: Paint Brush Mess!

Dr. Eggman
"Sonic's main villian was inhaled by that evil portal to make has a parallelic villian to Sonic and Mario. He build machines to destroy them. Will Sonic save him?" 
Dr. Eggman isn't playable but he can give some hints about how defeat enemies and gives hints to about the parallelic world.
Heroes Team

Metal Sonic

Story Description:

"Metal Sonic was inhaled by that portal with Dr. Eggman. With his parallelic powers, Metal Sonic his more evil with Sonic. He challenges him in some levels. Sometimes he's a good guy but it's to difficult to make him like that."

Metal Sonic is an unlockable playable character in Free Mode, but not in Story Mode.

All his moves are mostly like Sonic, but he can fly in midair too.

In Story Mode, Metal Sonic challenges Sonic to a race for rings and points.

Signature Move: Charging Missiles!

Heroes Team

Playable Description:

"Look who's there! Sonic's challenger is ready to take part to be a playable character. His moves are most like Sonic."

Blue Toad

"Toad's first buddy is inhaled by the portal to serves as a servant in the parallelic world."

He isn't playable, but he gives hints and secret descriptions after he's saved.
Peace Team
Yellow Toad
He isn't playable but he gives handy items and power-ups in hard areas after he's saved.
Peace Team
Green Toad
He isn't playable but he gives 5UPs to the player. He's very rare and difficult to find him after he's saved.
Peace Team


Cream

"A lovely, kindhearted rabbit was kidnapped by that portal to an another dimension. She's maybe small and young but she's brave too."

She isn't playable but he gives rings and some items.

Peace Team

Blaze

Story Description:

"The fire cat is kidnapped by the portal to make her as enemy to Silver and the others."

She's an unlockable playable character only in Free Play but not in Story Mode.

Peace Team
Blaze can throw fireballs like Mario and Luigi, without using the Fire Flower. She can make Fire Tornadoes, Homing Attacks, Light Dashes, Spin Dashes and Wall Jumps.

Playable Description:

"The fire expert is ready to "burn" her skills with her fire power. She's fast like Sonic but not so fast."

Speed: 5/5
Acceleration: 3/5
Jump: 3/5
Skills: 4/5
Power: 2/5

Signature Move: Fire Tornado!

Diddy Kong
TBA
TBA
Wild Team

Espio
TBA
TBA
Wild Team

Charmy
TBA
TBA
Wild Team
Stages
TBA
Power-Ups and Items
Mario Items
| Image: | Name: | Description: | Usable to: |
| --- | --- | --- | --- |
| | Coin | It's collectable. | |
| | 1-Up Mushroom | Gives you an extra live. | All the playable characters. |
| | Super Mushroom | Enlarges your size. | Mario, Luigi, Toad, Peach |
| | Life Mushroom | Expands your health all the way to 6. | All the playable characters. |
| | Super Star | Makes you invincible, but it only lasts for a limited amount of time. | All the playable characters. |
| | Fire Flower | Gives you the ability to throw Fireballs. | All the playable characters. |
| | Super Leaf | Transforms you into a Racoon which gives you many Abilities, some of these include floating. | Mario, Luigi, Toad, Waluigi. |
Sonic Items
Gallery
For this subject, see here the whole gallery of this game: Mario & Sonic: Parallel Dimensions/Gallery
Media
Heroes Team
Grasslands
To Peach's Castle - Dash 1
Peach's Castle - Dash 2
Mobius
Finding Emeralds - Act 1
A Little Surprise - Act 2
Parallel SMB
Bowser's Abandoned Castle - Dash 4
Parallelic Bowser Battle - Boss
Parallel Green Hill Zone
Parallel Green Hill Zone - Act 1
Parallel Emerald Hill Zone - Act 2
Parallel Dark Hill Zone - Act 3
Parallel Crystal Hill Zone - Act 4
Parallelic Dr. Eggman Battle - Boss
Trivia