Mario & Luigi: Sibling Rivalry
Comments

15
18,057pages on
this wiki
Mario & Luigi: Sibling Rivalry
Developer(s)
Publisher(s)
Release date
August 10, 2012
August 5, 2012
August 15, 2012
August 20, 2012

Genre
RPG
Mode(s)
Single Player
Rating(s)
Platform(s)
Nintendo DS
Media
Nintendo DS Game Card
Mario & Luigi: Sibling Rivalry (Mario & Luigi RPG + 2 More! in Japan) is the next RPG game in the Mario & Luigi series for the Nintendo DS. It is made by Underworld Games. and its release is to be announced.
Overworld
Edit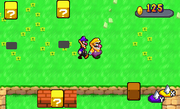 In the overworld, Mario and Luigi are free to roam any explored area. They bear the same icons used in previous installments. Same goes for Wario and Waluigi, they both have a jump input. But Wario later learns the Punch ability and Waluigi learns how to Dash. Some bro actions for the Wario Bros are Floaty Bros, where Waluigi's skinny body can be used as a float to swim across lakes. And another is the Ball Bros, (borrowed from Mario & Luigi: Partners in Time) where Wario and Waluigi both curl up into a ball and using it to slide on miniature treadmills to open secret doors.
Battle System
Edit
The general battle system is the same as Mario & Luigi: Bowser's Inside Story. You can jump on your foe twice, but some changes were applied. If the player has both Mario and Luigi or Wario and Waluigi grouped together, solo jump and hammer commands can be enhanced in perfect timing to inflict more damage. Bros. Items- have returned from Mario & Luigi: Partners in Time. The player can purchase in shops or obtain from Blocks. Bros. Items are used to inflict more damage on the enemy and may be used by two or one of the playable characters.
If the characters are in battle, they will receive damage if they get hit (or loss of HP) until they pass out. If one of the brothers pass out, they are no longer in battle. If you revive one of the brothers with a 1-Up Mushroom, the battle will resume. If all brothers pass out, the game will conduct a Game Over.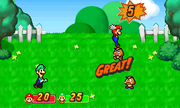 However, the battle system changes if the player goes into battle without the other. First off, Bros. Items that require all two characters to operate (Cannonballers, Trampolines, etc.) are disabled. If only Mario or Luigi go into battle the Bro Items that require all bros are disabled because only one of the brothers is battling. Furthermore, in separation one's demise will result in Game Over, regardless of the other one's status outside of battle.
The ranking system is similar to that of Mario & Luigi: Bowser's Inside Story. As Mario and Luigi level up, they are closer to ranking up.
Mushroom: default.
Shell: level 10
Flower: level 20
Star: level 30
Rainbow: level 40
Additionally, both DS screens are used to display all action occurring in battles.
Wario and Waluigi's battle system is slightly different than that of the Mario Bros. They have a punch icon instead of a hammer icon. And they use different bro items instead of sharing with the Mario Bros. When Wario jumps on his opponent, he ground pounds on his second jump like in Mario & Luigi: Sibling Warfare, Waluigi however, double-jumps normally. If any of the Wario Bros. pass out, the other will be the understudy. If both pass out, the game will conduct a Game Over.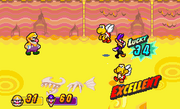 Wario or Waluigi can go to battles separately like the Mario Bros. But if any of them pass out, it will be a game over, ignoring the other brother.
The ranking system is similar to that of Mario & Luigi: Bowser's Inside Story. As Wario and Waluigi level up, they are closer to ranking up.
Garlic: default.
Bob-Omb: level 10
Piranha Plant: level 20
Ztar: level 30
Rainbow: level 40
Later in the game, the Wario Bros will eventually learn to fight alongside the Mario Bros together.
Mario, Luigi, Wario, and Waluigi's stats are all the same. Though, every respective stat belonging to each character is significantly different from one another. (Example: Wario's POW is much greater than all the other bros.) Stats eventually grow when you level up after gaining enough EXP.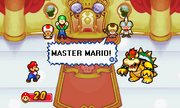 In the prologue, the game shows how far and peaceful the Mushroom Kingdom has come, and how many failed attempts villains have been made to conquer it. All but
Bowser
, the koopa king, however, were secretly pawns for an even greater threat. Her name was
Shamrock
. She witnessed how many of the previous villains have grossly underestimated the Mario Brothers and merely took this as an advantage to adapt and improve her plans of conquering the Mushroom Kingdom. Through a disguise, she learned from a
Toad
priest that there was an ancient being associated with the star sprites and of course, the brother of the
Dark Star
. It was a benevolent being named the
Millennium Star
, the creator of all living creatures. It is said however, if this star was corrupted for evil purposes, the kingdoms would fall. Shamrock planned to used this to her advantage. Now the Mario bros. and Wario bros. must set their differences aside and join forces!
Characters
Edit
Playable Characters
Edit
Non-Playable Characters
Edit
Chip - A star sprite who's ancestors were close relatives to that of the Millennium Star. He acts as a guide to Mario and Luigi and helps them throughout the game.
Princess Peach - The beautiful princess damsel of the Mushroom kingdom is kidnapped by Shamrock. Only she holds the incantation to awaken the Millennium Star from its long eternal slumber.
Toadsworth - He's always distressed when Princess Peach is kidnapped. But this time he tries his best to stay calm and relax himself to give the bros some tips.
Toadbert - He uses his knowledge of what he can gather about ancient star history to help the Mario and the Wario bros in their journey. He has the tendency to say, By boogity.
Bowser - The koopa king is ticked off now that he heard Peach was made off with someone else. He wants her back! Also, he probably wants to Millennium Star, too.
Bowser Jr. - Bowser Jr. will do anything for his butt-kicking papa! This koopa prince is one tough little rascal!
Popple - Popple is a wild card in the conflict. He remains neutral, taking no sides. From the Beanbean Kingdom, he rips off other people and tricks them into giving him money.
Borrible - Borrible is Shamrock's subordinate and partner in the conquest of the Mushroom Kingdom. The two have formed a dynamic duo of doom. He speaks of himself in third-person.
Shamrock - The main villain of the game. She seeks to use the Millennium Star's good power by means of conquering the Mushroom Kingdom.
You can encounter up to 46 enemies and battle them in Mario & Luigi: Sibling Rivalry.
Mario and Luigi enemies
Edit
Wario and Waluigi enemies
Edit
*Mario and Luigi can only fight.
**Wario and Waluigi can only fight.
***All bros must fight.

| Image | Item | Effect |
| --- | --- | --- |
| | Mushroom | Restores 20 HP to Mario Bros. |
| | Super Mushroom | Restores 30 HP to Mario Bros. |
| | Ultra Mushroom | Restores 40 HP to Mario Bros. |
| | Max Mushroom | Restores 60 HP to Mario Bros. |
| | Garlic | Restores 20 HP to Wario Bros. |
| | Super Garlic | Restores 30 HP to Wario Bros. |
| | Ultra Garlic | Restores 40 HP to Wario Bros. |
| | Max Garlic | Restores 60 HP to Wario Bros. |
| | Golden Mushroom | Restores all HP |
| | 1-Up Mushroom | Revives fallen brother with 20 HP |
| | 1-Up Super | Revives fallen brother with all HP |
| | Nut | Restores 10 HP to both brothers |
| | Super Nuts | Restores 15 HP to both brothers |
| | Ultra Nuts | Restores 20 HP to both brothers |
| | Max Nuts | Restores all HP to both brothers |
| | Refreshing Herb | Cures all status alignments |
| | Red Pepper | Boosts POW. |
| | Green Pepper | Boosts DEF. |
| | Blue Pepper | Boosts SPEED. |
| | Bean | Boosts stats by 1 |
Characters
Edit
Screenshots
Edit